Key Takeaways
Wi-Fi extenders are an excellent option for large homes with potential dead spots.

If you want a premium solution, consider a mesh Wi-Fi system.

The positioning of extenders and boosters must be considered to ensure the whole home is covered.
Depending on your home's layout and location, your wifi might not reach every corner of your house. Fortunately for you, two different kinds of devices can help strengthen or extend the signal depending on where the wifi is weakest in your home: a wifi extender and a wifi booster.
Both do the same thing:
They utilize an external antenna that attaches to an ethernet cable to create a secondary access point.
Wifi boosters provide higher speeds and support more devices concurrently than extenders.
Extenders usually give you more options on placement.
More details about the comparison between Wifi extenders and Wifi boosters are explained in this article. Read on to get a better understanding.
Related: How to Extend Wifi Range Outside – Step-by-Step Guide
What is the Difference Between a Signal Booster and a Network Extender?
Network extenders are networking tools that can increase the network's current range. When the signals in the network become less potent, it amplifies them more. Essentially, it is a bridge that has been installed between the user's device and the wifi router.
When the signal strength is low, it amplifies the router's transmissions.
Signal boosters are similar to wifi extenders but are set up on the wifi router rather than between the wifi network and the user's device. It is an antenna in the wifi router, enhancing the network's power and extending its range.
Wifi Extender vs. Booster vs. Mesh
A Wi-Fi extender (also called a range extender) can amplify your router's wireless network. This is best for home users who have a large house and want to extend the wireless coverage to their far corners.
Although some can offer better speeds than the wifi booster, they can not work with all devices.
Boosters work at the same time as extenders, giving you extra coverage when you need it.
Aim for a mega-boost, not a mega-extender. Boosters should be able to reach beyond the range of your primary router to provide additional coverage from other areas of your house.
Mesh wifi is another type of network extender. A mesh network is a wireless mesh network that can be installed in existing network infrastructure and used to create a new private or public Wifi access point and either broadcast or point-to-point VPN connection. It provides high-speed access to all your devices, no matter where they are.
What is the Best Wifi Extender
These are our top picks of the best wifi extenders we reviewed.
Best Overall Wifi Extender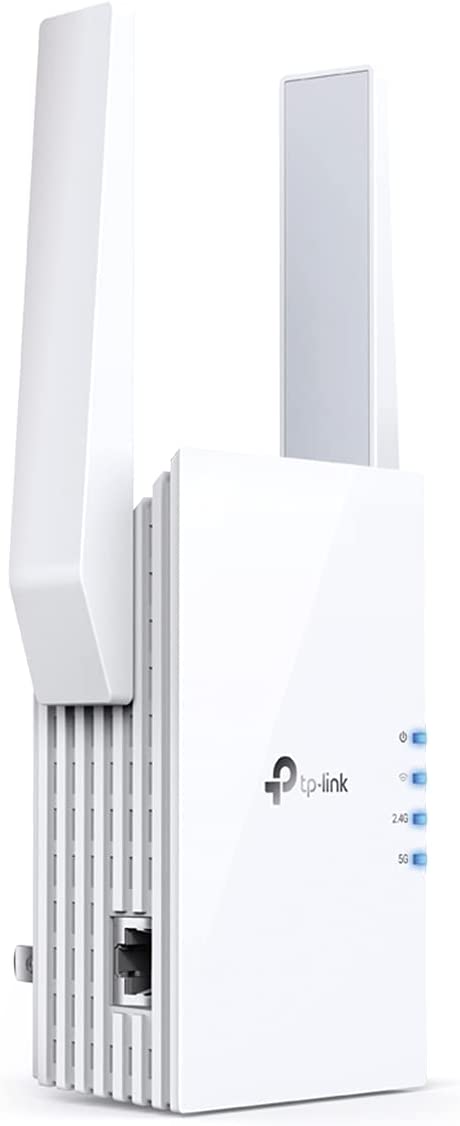 TP-Link RE605X is a powerful and versatile wifi extender you can use at home or in the workplace. It has enhanced Wifi coverage because of the two high-gain antennas covering areas with weak connections and removing dead spots.
Also, it has a WiFi Booster with 6 Speeds with dual-band WiFi rates up to 1.8 Gbps. The following graph shows the capability of this Wifi extender to download large files.
It lets you enjoy more reliable streaming, gaming, downloading, and other activities. Another fantastic feature of this extender is connecting more devices to Your Network. This enables you to maintain your devices operating as quickly as possible and connect more devices farther away from your primary router.
TP-Link RE605X extender also takes minutes to install, making it even more appropriate. Also, using the TP-Link Tether app, you can quickly and easily configure and manage your WiFi (Android, iOS). Utilize sophisticated signal indication to locate the finest WiFi connection spot.
Specifications
Data Transfer: 1775 megabytes per second

Speed: 1.8 Gps (2.4 GHz band: 574 Mbps; 5 GHz band: 1201 Mbps)

Frequency Band Class: Dual Band
Pros
Increased WiFi Coverage

WiFi Booster with WiFi 6 Speeds

Connect More Devices to Your Network

Universal Compatibility
Cons
Some users reported that this device disconnects from the internet at random times.
Check the TP-Link RE605X's latest prices on Amazon
Best in Home Network Wifi Extender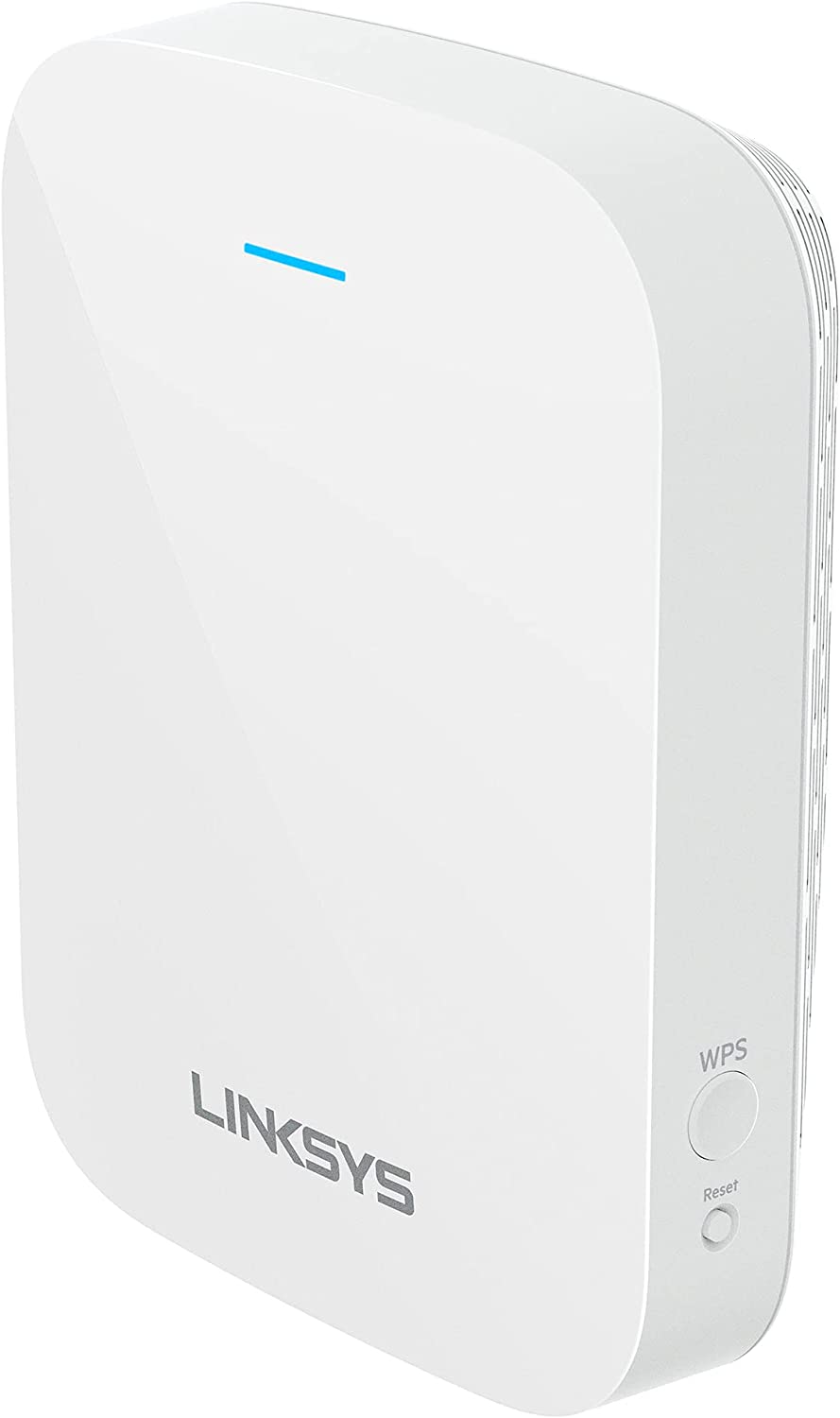 Linksys RE7310 is an excellent wifi extender with advanced features, such as the High-Gain Antenna technology and wifi Beam Focusing. This extender works with any router, so there is no need to change your router settings; this includes routers from all service providers.
It has dual-band simultaneous streaming. The most robust connection is made possible by simultaneously transmitting 2.4 GHz and 5 GHz wireless signals. Also, it has powerful, stress-free, wifi-6 which offers excellent speed and reliable connectivity, making it the best choice for a home network. The device sold at $119 at the beginning of this year, which is a fair price per its specs.
Specifications
Data Transfer rate: 1800 megabytes per second

Weight: 0.67 pounds

Dimensions: 5.1 x 3.9 x 2 inches
Pros
Easy to set up and use

Powerful, stress-free, wifi-6

Simultaneous transmission of 2.4 GHz and 5 GHz wireless signals

The extender works with any router
Cons
Some users complained that this device loses connection to the internet at times.

The range is not that great.
Check the Linksys RE7310's latest prices on Amazon
Best Value for Money Wifi Extender

The EaglePro AI ranks low in terms of speed, but it was still able to deliver average download rates of 114 Mbps for Wi-Fi 6 devices and 112 Mbps for Wi-Fi 5 devices throughout every room. This makes it the best in balance as compared to TP-Link and Linksys.
This is excellent for a multi-story home with a 150 Mbps fiber plan. Upload speeds were lower, with an unsettlingly low average of just 8Mbps to Wi-Fi 5 devices. The extender goes for 37 dollars on amazon, so if you are looking for an extender with a good balance, this is the best choice.
Also, it has a powerful external antenna with dual-band transmission for ultra-high-speed wifi connections, even at long distances.
D-Link EaglePro AI has two operation modes: AP Mode and Repeater Mode. AP Mode allows you to connect computers, tablets, etc., to the D-Link DAP-2690 via an Ethernet cable and access the internet. Also, it is easy to set up. In Repeater Mode, it connects as a wireless repeater and boosts the wireless signals while expanding the range of your current network. The following graph shows Wifi speeds at different points of a home.
Specifications
Data Transfer Rate: 600 megabytes per second

Supported Bands: 5Ghz (802.11a/n) and 2.4Ghz (802.11g/n), 2.4Gz (802.11b/g/n)

Weight: 0.5 pounds

Dimensions: 8 x 4 x 5.5 inches
Pros
Easy to set up and use

Connects multiple devices

It has two operations mode: AP Mode and Repeater Mode
Cons
Some users complained that it is an unreliable and weak signal; you may need to reset the unit's software many times to function correctly.
Check the EaglePro AI's latest prices on Amazon
Best Budget Wifi Extender

TP-Link RE220 is a wifi extender and a sound signal booster. It works as a wifi repeater, enabling wireless devices to connect to the network in areas with poor reception. This device features large external antennas and high-gain amplifiers for maximum coverage and connection speed, even long distances.
It eliminates Wi-Fi dead zones and significantly boosts your wireless connection. This device is easy to use and set up. Its user-friendly interface allows you to customize the network name and security key with a few clicks.
You can quickly boost your router's signal with this unit, even if they are far apart. TP-Link RE220 also has a convenient wall-plug design that makes it ideal for areas with no free outlet nearby nor any cables nearby to connect it to the router via an Ethernet cable. It is available in black and white color.
This Wi-fi extender goes for $26 on Amazon, which makes it among the least expensive extender on the list. This extender is fast and reliable; selling it at that price is fair.
Specifications
Data Transfer Rate: 2.4 gigabytes per second

Weight: 0.56 pounds

Dimensions: 3.7 x 3.5 x 1.
Pros
Easy to set up and use

Eliminates Wi-Fi dead zones

Wall-Plug Design

High-gain amplifiers for maximum coverage and connection speed
Cons
Some users reported that it is unstable; it sometimes loses connection.
Check the TP-Link RE220's latest prices on Amazon
Best Performing Wifi Extender

TP-Link and Linksys each performed well, but arguably Asus led the way with the RP-AX56, a Wi-Fi 6 range extender that costs $99. It has three operation modes: AP, repeater, and wireless bridge. Furthermore, Asus RP-AX56 features dual-band technology with two super antennas (2T2R), making it more robust and faster than many other wifi extenders.
It has an extended seamless AiMesh WiFi system. The AiMesh technology allows you to combine several Asus routers into one large, reliable, and highly-efficient network of connected devices. This design is ideal for large spaces like vacation homes and offices. It also has MU-MIMO technology, which allows you to simultaneously connect multiple devices at high speed.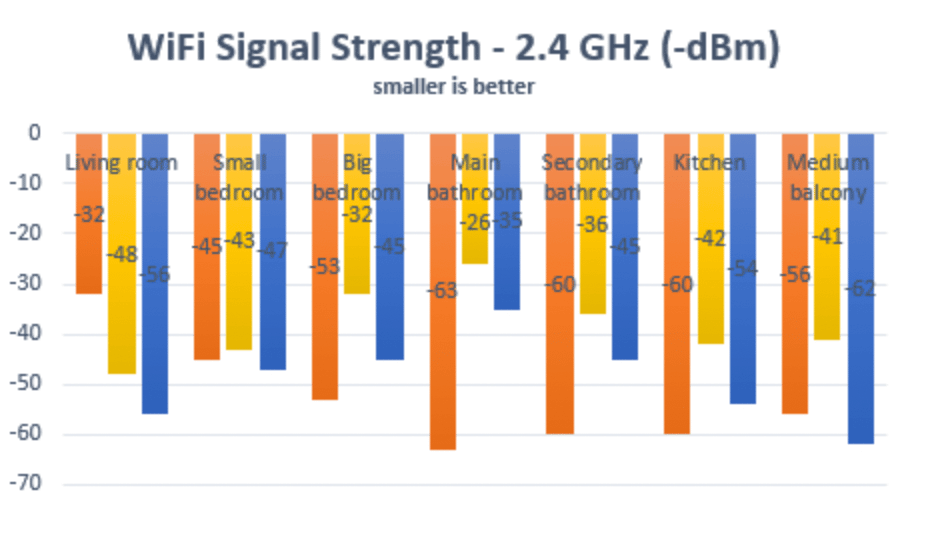 This device is easy to set up and use. It has a user-friendly interface for all types of users.
Specifications
Data transfer rate: 1800 Megabits Per Second

Frequency Band class: Dual Band
Pros
Extended seamless AiMesh WiFi system

Ideal for large spaces

Easy to set up and use
Cons
Some users complained that this device lost the connection at random times
Check the RP-AX56's latest prices on Amazon
Related: Why My Internet Connection Keeps Dropping and Reconnecting
How to Use wifi Extender
Wifi extenders work best and work better when they are set up correctly. The setup process is simple, but it is essential to follow these steps for the best results.
Setup with a PC
Setting up your wifi extender is a fast and straightforward process. Plug the network cable into your PC or laptop, and plug your wifi extender into a power outlet. Connect the other end of the cable to your existing router and devices.
When you are connected, you will see a network icon, which is the extender's connection. Open your browser, type in the website's address, and then connect to the extender as if it were a wifi router.
Set up with a Smartphone
Setting up this device is more straightforward than setting up a regular router for many reasons. First, you do not have to use any software or connect to the internet. Second, you can set up this device anywhere. Lastly, it would be best to have your smartphone and the extender's instruction manual for guidance.
Conclusion
It is not difficult to find a good wifi extender or signal booster in the market, but they are not all created equal. You should invest in an excellent device to have the peace of mind that your home or office is well connected. A reliable wifi extender will enable you to enjoy streaming videos and music from your computer, smartphone, and other devices within reach at fast speeds.