My music freak friends often ask me which music player package among Volumio, moOde, and piCorePlayer (pCP) is best for Raspberry Pi. While I've used all these three software in the past, MoOde Audio Player is my top recommendation.
But nothing against the other two! They are superb, too.
Why I favor moOde is because of its strong focus on audiophile-quality sound and local playback for the growing DIY audio community. Plus, its high-resolution audio formats and massive developer community are other highlights.
Read on as I explore the all-around moOde Audio player in detail, from its key features, installation, and configuration to helpful tips to use it best. Besides, I've briefed about four alternatives to moOde.
What Is MoOde?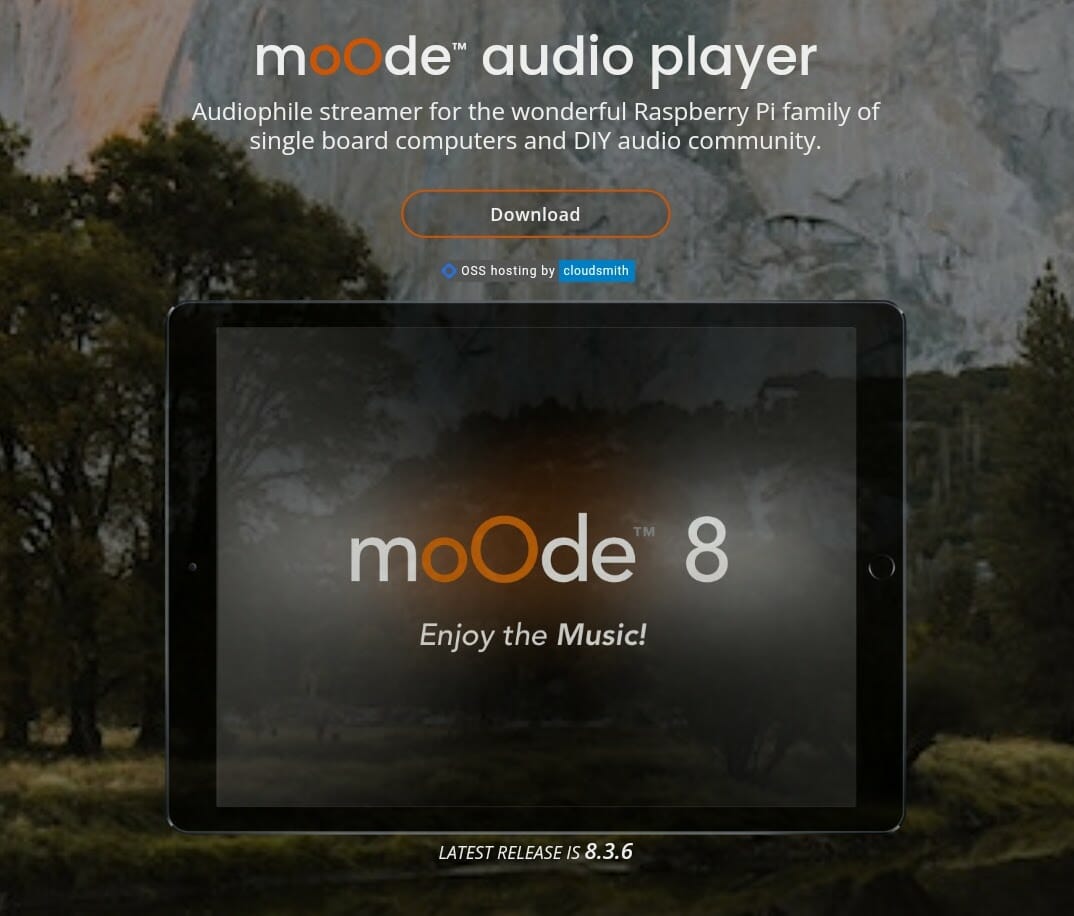 Originally designed & coded by Andrea Coiutti and Simone De Gregori, moOde is a popular audio player software for Raspberry Pi and other single-board computers. It's an absolutely FREE custom-built operating system to deliver high-quality audio playback to the Pi community.
The best part?
Its open-source code is available on GitHub and maintained by DIY audio enthusiasts. As a result, it gets frequent updates with a whole set of new features.
What Is MoOde Audio Based on?
MoOde Audio is based on Debian GNU/Linux, an open-source OS. It's a Linux distribution developed by the community-supported Debian Project.
Key Features of MoOde Audio Player
The moOde Audio player is feature-rich, and below is a rundown of some of the most useful features it has to offer:
Audio Formats
MoOde Audio is compatible with a wide range of audio formats, for example, FLAC, MP3, AAC, WAV, and more.
Multi-Platform
Not just a Raspberry Pi, but moOde is suitable for several other SBCs (single-board computers). To name a few, we find its compatibility with Odroid C2, Odroid C4, Odroid XU4, Udoo Bolt, and Khadas Tone Boar.
Offline Use
This is the best thing I love about moOde. It lets me enjoy my music even without an internet connection.
Web Interface
MoOde's web interface is its next big plus point. It's simple and relatively attractive, helping in quick navigation.
Audio Resampling
The software also comes with built-in audio resampling to enhance your audio playback.
UPnP/DLNA
MoOde helps you stream music from other devices by acting as a UPnP/DLNA renderer and server. While UPnP is an acronym for Universal Plug and Play, DLNA stands for Digital Living Network Alliance.
Note: Refer to this article to understand the difference between UPnP and DLNA.
Pros of MoOde Audio
Entirely FREE
Minimalist UI
Support for Spotify, AirPlay, and Roon
Parametric and Graphic EQ
Massive developer community
Effortless music library management
A multitude of music and content options, including internet radio stations and podcast playback
Various control options
Supports UPnP/DLNA
Downsides of MoOde Audio
Some technical knowledge is required for moOde configuration
Screen timeout issues
Average plug-and-play experience
No plugins
The official setup guide lacks illustrations for newbies
Related: Bitstream vs PCM: Which Is Better?
Getting Started: How to Install MoOde Audio on Raspberry Pi?
Installing moOde Audio on a Raspberry Pi is a straightforward process. Follow these steps to do so:
Go to the official Download page of moOde Audio.
Install a software package per your computer's configuration, i.e., 32-bit or 64-bit.
Unplug the micro-SD card from your computer and insert it into the Raspberry Pi.
Power ON.
Voilà, the initial installation of moOde Audio on your PC is completed. Let's now shift to its configuration.
How to Configure MoOde Audio Player?
The configuration of the moOde Audio player, unlike its installation, is not as easy as you may think. Take a look at this official textual setup guide. It will offer you the context – why I said so! It's just a plain document on GitHub with no visuals for the benefit of newbies.
Thus, refer to the following notes to avoid any sort of confusion:
Use your PC's web browser to connect to the moOde interface at http://moOde.local or http://172.24.1.1.
On the interface, click the small m icon in the top right corner of the screen.
Go to the Configure option.
Click the Audio tab to configure the various audio-related settings. For example, the I2S Audio Device, Output Device, Volume, etc.
On the Time Zone tab, select your time zone from the drop-down list.
Moving onto the Audio Source tab, add your preferred music sources to the moOde Audio, like local music files, streaming services, etc.
On the Network tab, configure your Raspberry Pi's network connection. Stick to the default settings for a wired connection, and input your Wi-Fi network Name and Password if you plan to go wireless.
Similarly, configure the other settings from their respective tabs in the web interface.
Once you've configured the moOde Audio to your desired settings, press the Save button to save your changes. That's all. You're all set to dive into an immersive listening experience.
How to Play Music on MoOde Audio?
This is how you can play your favorite music on moOde Audio:
Connect your Raspberry Pi to your network and turn it ON.
Go to your web browser and connect to the moOde interface at either http://moOde.local or http://172.24.1.1.
Click the m icon at the top right corner of the screen to access the Configure option.
Click the My Music tab to browse your local music library or collection.
Select any track to play it.
MoOde Audio Player: Useful Tips
If you're new to moOde Audio, take note of these useful tips to use it effectively:
Regularly update your moOde Audio player for the latest features and bug fixes. Version 8.3.6 is the most recent release at this point of writing.
I also recommend neatly organizing your music library with proper tags and folder structures.
Configure your audio output settings in moOde correctly, such as selecting the right sound card, DAC, etc. If required, tweak the sample rate and bit depth for a more optimal listening experience.
MoOde Audio comes with various control methods, such as a web interface, mobile apps, and GPIO buttons. Choose the one that suits you best.
Join moOde's online community groups and forums for the latest updates or developments.
Furthermore, don't forget to back up your moOde configuration and library settings. This will prevent data loss in case of hardware issues or updates.
Best MoOde Audio Player Alternatives
Following are the top four alternatives to the moOde Audio player:
Related: Apple Music vs. Spotify: A Head-to-Head Comparison of the Leading Music Streaming Services
MoOde Audio Player: FAQs
Q: Is MoOde Better Than Volumio?
A: Both moOde and Volumio have many features in common, be it user-friendliness, UI, support for multiple file formats, or excellent sound quality. But if I talk about hardware support (including older Raspberry Pi models) and cost, moOde is a clear-cut winner.
Q: Is MoOde Audio Free?
A: Yes, moOde Audio is free. You can download it from here and use it without worrying about any in-app purchases or paid features.
Q: How Do I Access MoOde Audio?
A: To access moOde Audio, use your web browser to connect to the moOde interface at either http://moOde.local or http://172.24.1.1.
Q: What DAC Is Supported by MoOde Audio?
A: MoOde Audio supports I2S DAC HATs from manufacturers like Allo, HiFiBerry, Denafrips, Lucid Labs, JustBoom, etc. It also supports USB DACs from other major manufacturers, such as AudioQuest, Audio-GD, Cambridge Audio, Chord Electronics, DACMagic, FiiO, iFi Audio, JDS Labs, Topping, etc.
Related: How to Fix 'Spotify Can't Play This Right Now' Error
Conclusion
Here you go. Be it Volumio, moOde, piCorePlayer, or RoPieee, all these programs are your go-to solutions to transform a simple Raspberry Pi into a high-end music player streamer or audio player. But moOde holds the upper hand in this battle!
It's extremely beginner-friendly and boasts an advanced Library search/filtering engine, 12-band Parametric & 10-band Graphic EQ, regular software updates, and whatnot. The best part? It's completely FREE!!!
So, what are you waiting for? Install moOde Audio on Raspberry Pi, and immerse yourself in the world of music. 
References: