Key Takeaways
Fubo vs. YouTube TV: Prices – FuboTV starts at $54.99/month, while YouTube TV's base package costs $64.99/month.

Fubo vs. YouTube TV: Channels – YouTube TV offers more than 111 channels, while Fubo TV has around 109.

Fubo vs. YouTube TV: Picture Quality – FuboTV offers up to 1080p resolution, while YouTube TV only goes up to 720p.

Fubo vs. YouTube TV: Sling – FuboTV has a 7-day free trial, while YouTube TV does not offer a free trial.
Given two excellent Live stream TV options only makes it harder to settle for one. But, our comparison seeks to help you figure out your ideal choice depending on what you love and can't miss. Here are more of the two TV channels to help you pick one. Their key differences are features, DVR storage capabilities, and cost, among other factors discussed.
Related: Fubo vs Hulu – A Detailed Comparison
What YouTube TV Offers That Fubo Doesn't?
With YouTube, you can enjoy 32 of the 35 top-rated cable channels, yet Fubo only offers 27 of the 35. Still, on channels, YouTube has a sum of 111, while Fubo features 109 channels. You will therefore get more With YouTube. Some of the channels on YouTube but missing on Fubo include;
Cartoon Network

TBS

truTV

CNN
These extra channels give YouTube an upper edge over FuboTV.
Which Is Better, YouTube Tv?
The better option of the two depends on what a viewer seeks in Live stream channels. If you are looking for a TV that allows you to watch several channels simultaneously with the ability to save your favorite episodes, then FuboTV will get you sorted.
However, if you'd love unlimited storage with a secret weapon that allows you to create your library and watch later with no adverts, YouTube is a good fit. In addition to saving without running out of storage, you get a 4K plan at no extra charge, plus TNT, TBS, and CNN access, all unavailable on fuboTV and at a cheaper rate. Simply put, YouTube is the real deal.
Related: Android TV vs. Google TV – What Are The Key Differences?
What is the Downside to FuboTV?
On its downside, FuboTV has a 720p resolution limitation for most live-stream channels. Though its smooth picture quality is satisfactory, the limited resolution is disappointing for viewers who would love a higher one. Lack of access to TBS and TNT on turner networks negatively affects it as they are accessible on competitors' services like YouTube.
Related: DirecTV Stream vs. YouTube TV – A Detailed Comparison
Is Fubo or YouTube TV cheaper?
Regarding price comparison, we will use the base packages offered by the two Livestream channels. YouTube charges $64.99 per month for the basic package, while with fuboTV, you part with $69.99 every month for its basic package. This slight pricing difference makes YouTube TV cheaper than fuboTV.
Fubo vs Youtube Tv Channel List 2023
One of the biggest differences between Fubo and YouTube TV is the channel list. YouTube TV has around 111 channels, while Fubo has about 109 channels. This means that YouTube TV has more channels than Fubo.
When one pays for the basic YouTube package, they have access to 111 channels shown below: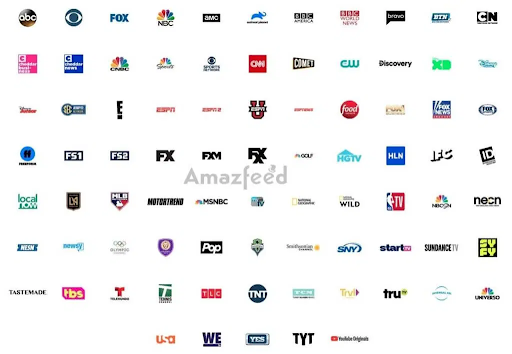 fuboTV viewers can enjoy a variety of the 109 channels shown below: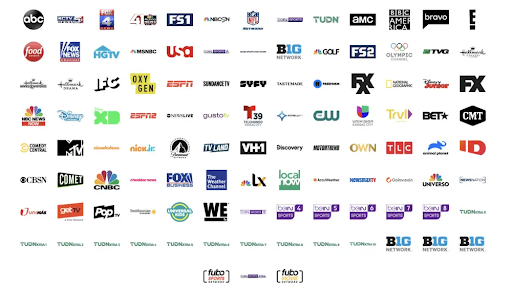 Fubo vs Youtube TV For Sports
Regarding live-streaming sports, Fubo offers more channels than YouTube TV, many of which are dedicated to sports. It's also the only option to watch 4K HDR content. Both services offer a robust lineup of channels and features you can enjoy.
Related: How to watch live sports on Roku free – A Detailed Guide
YouTube Tv vs Fubo Tv Picture Quality
On picture quality, YouTube wins due to its lack of restriction on resolution allowing viewers to adjust picture quality to their preference freely. FuboTV, on the other hand, has a 720-pixel limit on its live streams, which restricts its users from customizing their picture quality to suit them.
Related: YouTube TV vs. Hulu Live – Which is Right For You?
Fubo vs YouTube TV Price
Fubo subscribers have four payment plans, while YouTube only has two tiers. Fubo's average price is 45 cents per channel, yet YouTube stands at 76 cents.
Before making your choice remember YouTube has an all-around channel lineup that you can't compare to fuboTV's pro plan at 5 extra dollars. Here's a tabled comparison—FuboTvs pricing as of 12/22.
| | | | |
| --- | --- | --- | --- |
| Plan | Price | Channels | DVR Storage |
| Pro | 69.99/month | 140 | 250hrs |
| Lite | 79.99/month | 205 | 1000hrs |
| Ultimate | 99.99/month | 240+ | 1000hrs |
| Latino | 33.00/month | 45 | 250hrs |
YouTube pricing as of 12/22
| | | | |
| --- | --- | --- | --- |
| Plan | Price | Channels | DVR Storage |
| YouTubeTv | 64.99/month | 85+ | unlimited |
| Spanish Plan | 34.99/month | 28+ | unlimited |
Fubo vs YouTube TV vs Sling
Sling has two base options, and it offers viewers a chance to stream popular TV channels at a lower cost. There's a blue sling starting at 35$ per month, with 45+ channels focused on news and entertainment. The orange option has 30+ channels ideal for sports lovers and family content at 35$. One can get a mix of both at 50$.
Fubo, YouTube, and Sling are good options to choose from when settling for Live stream TV. If your primary concern is the price, you'll probably go for the fair-priced sling TV. When you need quick switching, multiple viewing at once, and selective saving of favorite episodes, then you'll likely pick fuboTV.
However, if you are after massive, unlimited storage space, a more comprehensive channel selection, and fair pricing, YouTube got you sorted. Here's a tabled breakdown of what the three streaming options offer.
| | | | |
| --- | --- | --- | --- |
| | fuboTV | SlingTv | YouTube Tv |
| Monthly price | 69.99 USD | 30-45 USD | 64.99 USD |
| No of channels | 100+ | 50+ | 110+ |
| DVR | 250 hrs | 50 hrs | Unlimited |
| Free trial length | 7 days | 7 days | 7 days |
| Live sport streaming | yes | yes | yes |
| On Chromecast/ IOS/ Android phones & tablets | yes | yes | yes |
| On X-BOX one | no | yes | yes |
| On Play Station 4 | no | no | yes |
| Multiple profiles | no | no | yes |
YouTube and sling TV have parental controls. With YouTube, you can create up to five profiles of people in the household.
YouTube TV vs Fubo 4k
As a YouTube TV subscriber, you access the 4K plus plan at 19.99$ per month, but if you're new, there's a 9.99$ offer for your first year. With Fubo, the deal gets even better, being the only live-stream TV with 4k included in the subscription cost, so there is no extra charge on Fubo. fuboTV wins on 4k.
FuboTV vs YouTube Tv For Football
When you choose Fubo as your preferred Livestream TV, you'll enjoy live sports and save half the cost used on cable packages. It's an excellent option for sports fans seeking to cut cords with NFL Network, CBS, FOX, NBC, TCL, GOL TV, TUDN, and now ESPN is also included.
Though there are no Sinclair and turner channels like TNT, you can still catch up on international sports on multiple devices, with the screencast, and save your favorite episodes to watch later. You can even stream four live matches at once on fuboTV.
Fubo wins in football, but some sports lovers will still opt for YouTube not to miss out on the massive gaming on TNT.
Bottom Line
Cutting the cord shouldn't mean missing out on prime-time shows or live sports. Video streaming services replicate and improve your cable TV experience. As you pick your ideal provider, be on the lookout for price changes as continuous upgrades take place to improve viewers' experience. Our recommendation would be Youtube, as it offers more channels and storage space at a lower price.