Are you stuck because your HP printer won't recognize your new ink cartridge? HP aims to stop HP printer owners from using generic cartridges, so HP firmware blocks non-HP ink cartridges, making generic brands incompatible with their printers.
This way, users have no choice but to use genuine HP ink cartridges even though they're more expensive than the generic options.
Key Takeaways
Generic ink cartridges approximate the OEM-made ones in every way and are a perfect fit for the printer and operate like original ones.
Ink cartridges from third-party manufacturers cost much less than OEM cartridges but offer the same quality of print.
To get the generic ink cartridge to work on your printer, you have to bypass the HP cartridge protection on your HP printer.
Understanding HP Printer Compatibility
Purchasing printer cartridges is an everyday practice, with many people enjoying the benefits of efficient, effective, and easy printing. HP recommends using genuine HP toner or ink because they don't guarantee the reliability and quality of refilled or non-HP cartridges.
However, the introduction of generic ink cartridges brings in the aspect of HP printer compatibility. Printer compatibility issues arise from the use of generic cartridges (cartridges not made by the HP printer manufacturer).
After installing a new generic cartridge, different signs may pop up, including the following:
A message on the printer with the warning, 'cartridge not recognized,' or 'no cartridge installed.'
The HP printer may display 'HP cartridge not compatible,' 'HP cartridge protection enabled,' 'HP printer cartridges locked,' or 'HP printer cartridge error.'
A low or empty ink level display on your computer.
The printer might show 'printer cartridge not detected' or 'your printer cannot detect ink.'
The printer shows 'toner is not compatible.'
Third-party manufacturers create compatible toner cartridges. These manufacturers attempt to replicate original toner designs without infringing on the original manufacturer product patent.
Furthermore, reputable compatible toner cartridge manufacturers make high-quality cartridges comparable to OEM cartridges.
Related: How to Add & Connect a Printer to iPhone?
Importance of Using Compatible Ink Cartridges
It's advisable to use compatible ink cartridges for the following reasons:
Cost Effective
Although there's no significant difference in quality between compatible and OEM toner cartridges, OEM cartridges are generally more expensive. According to industry analysis, manufacturers like HP, Epson, Canon, Lexmark, etc., have up to 60% or more cost margins on their cartridges.
On the other hand, compatible cartridge manufacturers save users 10%-30% off the cost of OEM cartridges.
Superior Performance
Independent third-party organizations have tested and verified high-quality compatible cartridges to print more at a darker density than equivalent OEM cartridges.
Compatible Generic Ink Cartridges are Environmentally Friendly
Using compatible ink cartridges minimizes emissions/pollution associated with incineration, landfilling, and the manufacture of new cartridges. Averagely, each compatible cartridge sold prevents up to three pounds of waste from getting into landfills.
Related: How to Print From iPhone to Wireless Printer
How to Determine If a Generic Cartridge is Compatible With Your HP Printer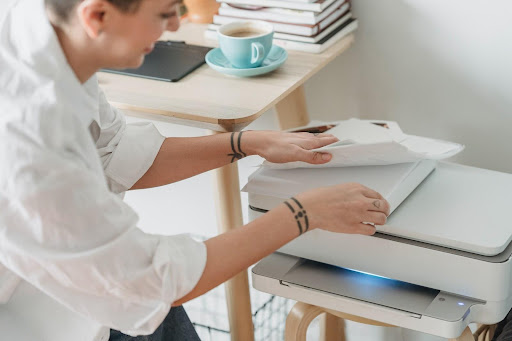 Cartridge compatibility is when your HP printer can work with third-party ink cartridges. Generic cartridges fit your HP printer in the place of cartridges manufactured by HP.
Determining If a Generic Cartridge is Compatible With Your HP Printer
There are several ways to verify the cartridge series that work with your HP printer:
Check the box the printer came in. These boxes show a clear display of the cartridges compatible with the printer.
Look up the printer model on the HP website. There's a list of compatible cartridges.
Check the cartridge part number on the printer. Most printers add the cartridge part number next to the carrier for easy reference.
Check the printer user guide or if you don't have a physical one, check the printer's product specifications online.
Related: Is 3D Printing Right For Your Small Business?
Making Generic Ink Cartridges Work on an HP Printer
Here's how to make generic ink cartridges work on your HP printer:
Remove the existing cartridge: Remove the old cartridge and let the printer rest for 10 minutes.
Clean the cartridge and printer contacts: Wipe the electronic contacts within the printer using a dry, clean, lint-free cloth.
Install the new generic cartridge: Install the generic cartridge, then close the printer's front cover.
Update the printer driver: Update your HP printer drivers to ensure the printer works well with the generic cartridge.
Print a test page: Print out a test page to ensure the printer works well with the cartridge.
Related: What Is the Best Printer With the Cheapest Ink Cartridges?
Common Issues With Generic Ink Cartridges on HP Printers and How to Troubleshoot Them
Some of the common challenges you might experience with generic ink cartridges include the following:
Non-original ink error: A "Non-Original Ink" may appear after a cartridge installation. To sort out the problem, just press "OK," "Continue," or "Proceed."
Ink cartridge failure/ Incompatible cartridge/ Depleted ink cartridge: These errors appear due to a communication breakdown between the chip on the cartridge and the printer. Remove and reinstall the cartridge, then restart your printer.
Low ink/ Empty ink/ Ink out: These errors may seem strange, especially if you recently changed your cartridge. Remove and reinstall the cartridge firmly into its slot to fix the problem. Click "OK" to resume printing.
Incompatible cartridge: This error may signal that the cartridge is in the wrong slot.
Cartridge problem: This error can happen due to dirt accumulation during exploitation.
HP ink cartridge failure message: This error means cartridges may be missing or damaged.
Related: What Is the Size of Printer Paper? Choosing the Perfect Fit for Your Printing Needs
How to Make Generic Ink Cartridges Work on an HP Printer – FAQs
What Are Compatible Cartridges?
Compatible cartridges are ink cartridges made for inkjet printers from third-party manufacturers. They fit the printer in the cartridge space made by the printer manufacturer.
Will Generic Ink Cartridges Work in HP Printers?
Yes, you can use generic ink cartridges in HP printers. To make it work, disable the HP cartridge protection to prevent the printer from getting blocked from updates.
Related: How to Change Ink in HP Printer?
How Do I Get my HP Printer to Accept Compatible Cartridges?
Here's what to do to get your HP printer to accept compatible cartridges:
Clean the contact ports
Reset the printer's internal memory
Remove cartridge protective strips
Ensure you insert the ink cartridge appropriately
Check the printer for updates
Disable the HP cartridge protection
How Do I Bypass an Incompatible HP Ink Cartridge?
You can bypass an incompatible HP ink cartridge warning by:
Remove the cartridge from the printer
Place the incompatible ink cartridge back into your HP printer
Turn off the printer and unplug it from the power source and wait for 10-15 minutes
Plug in the printer to the power source and turn it on again
Insert the incompatible ink cartridge into the printer
Power off the printer for up to a minute
At this point, the cartridge should be successfully installed
Related: Why Is Your HP Printer Not Connecting to Wi-Fi?
Conclusion
We hope you found this article helpful and are now more confident about generic ink cartridges. Remember to check the cartridge quality, in order to get great prints out of your HP printer, be it from your iPad, iPhone, or another type of device. In the long term, you'll realize that the return on investment has more to do with making an impression and reliability, even when you have to consider cartridge cost. 
What is your experience using generic ink cartridges? Share your thoughts and tricks with us.