AirPods not only sound great with Apple devices but also with most non-Apple products, including Chromebooks. This gives you the same wireless ensemble-like audio experience as you would get with an iPhone or iPad.
But how to connect AirPods to Chromebook?
Put your AirPods in the charging case and press the setup button at the back. Once the white light starts blinking, turn on the Bluetooth on your Chromebook. Wait for it to detect your AirPods, and then select the headphones from the list of unpaired devices.
If you are not able to figure out how to pair AirPods to Chromebook, then keep reading to explore the steps in detail.
Furthermore, the article also explains why your AirPods and Chromebook won't connect, along with quick fixes.
How Do I Connect My AirPods to My Chromebook for the First Time?
Connecting your AirPods to your Chromebook for the first time is a five-step process. But before I discuss those steps, make sure the earbuds are in pairing mode.
Then, follow these steps:
Click the Menu button in the bottom right corner of your Chromebook.
An options menu will open with Wi-Fi, Notifications, Cast, Bluetooth, and more options. Click Bluetooth. Its icon should turn blue from gray. Alternatively, open Settings > Bluetooth.
Your Chromebook will automatically start searching for nearby wireless devices.
Press and hold the setup button on the AirPods case till the status light flashes white. Your buds are now discoverable.
When your Apple earbuds appear on the Chromebook screen under Unpaired Devices, select them for pairing. They will now appear under Paired devices.
A pop-up may appear at the bottom of the screen to confirm this.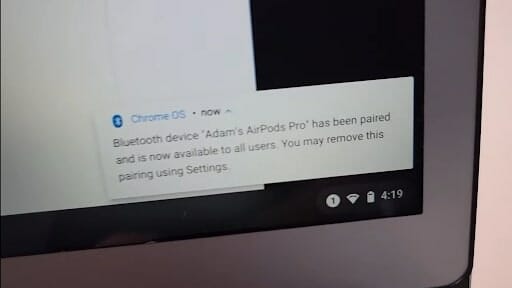 Congratulations, you've successfully connected your AirPods to your Chromebook. Note that the above instructions are valid for all AirPod models and Chromebooks.
Related: AirPods Connected but no Sound – Reasons And Solutions
Is There a Difference Between AirPods 2, 3, and Pro for Pairing With Chromebook?
There is no difference between AirPods 2, 3, and Pro for pairing with Chromebook. The steps remain the same for both devices, irrespective of your chosen model.
However, AirPods Pro have additional features, like Active Noise Cancellation and Transparency mode, which may not be fully supported when connected to a Chromebook. As a result, while you can still pair AirPods Pro with Chromebook and use them for audio playback, some advanced features may not be available.
Related: How to Find Lost Airpods that are Offline? Here Are Your Options
How Do I Put My AirPods in Pairing Mode?
You can put your AirPods (all generations) or AirPods Pro (all generations) in the pairing mode through these steps:
Insert both the AirPods in the charging case and open the lid.
Hold the setup button on the back of the case for about 5 seconds.
Wait until the status light on the case flashes white.
Pairing mode is now enabled in your AirPods.
Note: If you've got AirPods Max, turn on its pairing mode by pressing and holding the noise control button for about 5 seconds or until the status light flashes white.
Why Won't My AirPods Connect to My Chromebook?
There are many reasons why your AirPods won't connect to your Chromebook. For example:
Bluetooth Isn't Turned ON on Chromebook
If Bluetooth isn't turned ON on your Chromebook, AirPods won't connect to it.
Resolution: Turn ON the Bluetooth from the Settings app or options menu at the bottom right corner of the screen.
Related: The Ultimate Guide: How to Clean AirPods and Keep Them Sparkling
AirPods Weren't Paired Correctly
Another reason can be that your AirPods weren't paired correctly in the first place. Maybe it's due to low charge, or you released the setup button before the status light could turn white.
Resolution: Re-pair your AirPods by following the steps discussed above.
Chromebook Version Issues
If there's any issue with your Chromebook's ChromeOS, like a glitch or something else, AirPods won't pair with it.
Resolution: Update the ChromeOS to the newest version. The steps are:
Turn ON your Chromebook.
Select the Time > Settings from the bottom right corner of the screen.
Click About ChromeOS.
Find which version of the ChromeOS your device uses under Google ChromeOS.
Click Check for updates.
Your Chromebook will find the available software update and install it automatically. Hence, keep it connected to the Wi-Fi.
AirPods Aren't Updated
Your Chromebook may be running the latest OS version, and the problem is with your outdated AirPods.
Resolution: Make sure your Apple earbuds are running their latest firmware by checking the same through an iPhone or iPad.
Though AirPods automatically update in the charging case, if this doesn't happen in your AirPods, trigger the update manually.
Software Glitches in the AirPods
Bugs in the AirPods not only influence their sound quality but also prevent them from connecting to your Chromebook.
Resolution: The best resort is to reset the buds. The steps are:
Launch the Settings app on your iPhone.
Go to Bluetooth.
Find your AirPods in the Devices list and select the i icon next to them.
Tap Forget This Device.
A confirmation will pop up. Tap again.
AirPods Are Connected to Another Device
AirPods can pair with multiple devices at the same time but can only connect & play audio from only one peripheral at a time.
If they are already connected to another Bluetooth device, you won't be able to use them with your Chromebook.
Resolution: Disconnect the AirPods from the other device and connect to your Chromebook by pressing the setup button.
How Do I Connect My AirPods to My Chromebook From School?
The process to connect your AirPods to the Chromebook from school is the same. That is:
Make your AirPods discoverable to nearby devices by pressing the setup button on the case. Wait for the status light to turn white.
Turn on Bluetooth on the Chromebook with the buds kept adjacent to it.
Let Chromebook detect the AirPods. Once detected, they will appear under Unpaired devices.
Click on them to complete the connection.
Related: How to Turn Off Touchscreen on Chromebook?
How to Connect AirPods to Chromebook: FAQs
Q: Why Won't My AirPods Show Up on Bluetooth?
A: Your AirPods may not show up on Bluetooth because they aren't turned ON, Bluetooth is OFF on the other device (here, Chromebook), or there's a problem with your buds.
You can resolve these issues by putting your AirPods in pairing mode, toggling the Bluetooth ON on the other device, or resetting the earbuds.
I've discussed the steps for all these above.
Q: Why Can't My PC Find My AirPods?
A: Your PC can't find your AirPods if the latter is not in its pairing mode or kept too far from the former.
Q: How Do I Enable AirPods on My PC?
A: Follow these instructions to enable AirPods on your PC:
Go to the PC's Settings.
Click Bluetooth & devices.
Find Bluetooth and turn it ON.
If your AirPods are in pairing mode, the PC will detect and connect to them. 
Related: How to Connect Airpods to PS5: 3 Easy Workaround Tricks
Conclusion
Here you go. That's the simple process of connecting your AirPods to the Chromebook.
However, you must remember that some features of the AirPods don't work with non-Apple devices such as Chromebooks. For example, no Siri, double-tap customizations, spatial audio, automatic device switching, ear detection, etc.
When you aren't able to use these features, don't think of it as a glitch, and enjoy the superb audio quality AirPods offer with every device.