It's the eve of Christmas, and soon your children will eagerly be tearing open their gifts. It will be fun seeing their eyes light up as they get something they've been wanting for a long time, or even something they've only seen on television. One of the best gifts are flying drones. Most of these are quadcopter style — with four rotating blades. They're like mini helicopters that really fly through the air. Most compact drones for children can be flown indoors and out. Some may require the addition of protective blades.
A drone as a gift is a great choice nowadays. Today's generation of children are technologically smart. They don't want books, and DVDs are passé with internet downloads. By no means buy your children clothing as gifts—unless you want to alienate them forever. And don't bother with a table lamp, that's just plain boring. Little drones are perfect as gifts for children. They're available at a variety of different price points, so you can find one to suit your budget.
There are also many great drone manufacturers: Syma, Hubsan, UDI, Parrot, Cheerson, and DJI are just a few of the more popular brands. Your boy or girl will be thrilled to receive a modern toy that utilizes the latest technology. Best of all, everyone in the family can learn how to fly a drone, and have fun together. When choosing a drone gift, ensure that it's the actual name brand model, and not a cheap copy from China. A name brand manufacturer will back up your purchase with a one year warranty. You don't want to get it out of the box, then find that it doesn't fly properly, only to not have any recourse to a product exchange.
Here are ten of the best models of drones that will make your child's eyes light up at Christmas.
PREVIEW
BEST BUY
TITLE
Syma X1 4 Channel 2.4G RC Quad Copter - BumbleBee
Syma X5C 4 Channel 2.4GHz RC Explorers Quad Copter w/ Camera
Hubsan X4 (H107C) 4 Channel 2.4GHz RC Quad Copter with Camera - Green/Black
UDI U818A-HD 2.4GHz 4 CH 6 Axis Headless RC Quadcopter w/ HD Camera, Extra Battery
Hubsan H107D+ FPV X4 Plus Quadcopter with FPV Camera (White)
FEATURES
▪ 3 way precision controller
▪ latest 3-axis flight control system
▪ 6-axis Gyro stabilization system
▪ 7 Minute flight time and 100 minute charge time.
▪ Latest 6-axis flight control system
▪ Lightweight airframe with nice durability
▪ Headless/IOC function
▪ latest 6-axis flight control systems
▪ Permits super stable flight, flying indoor & outdoor
▪ Lightweight & durable airframe
Syma X1
The Syma X1 is a compact quadcopter with a white and red plastic body casing, and two white, and two black rotors. It's affordably priced from $25 to $50, depending on sales offers. Your child will be able to do fun tricks with this drone. Its 3D flip function button can do professionally-styled maneuvers such as flips, rolls, and continuous rolls. This model utilizes the latest 2.4Ghz technology, so that other drones won't interfere with its function on the flying field. The Syma X1 comes with a real radio controller that is used to control the moves and functioning of the drone. It rapidly responds to adjustment of the sticks, and can be flown out to greater distances. There are some cool features on this drone. There's two speed control modes, so once your child has the hang of drone piloting, they can access the higher mode for extra fun. The battery is also removable, so you can pre-charge several, and give your child more flying time on the field. In inclement weather, your child can still fly the Syma X1 indoors.
Syma X5C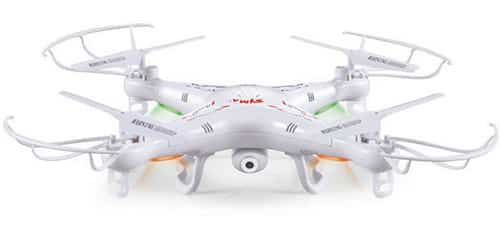 The Syma X5C is a drone that is perfect for the beginner. It has flexible blade guards that'll protect the walls and furniture of your home, but it can also be flown outdoors. The blades will still be protected from trees and buildings. This drone has an overall white casing. The Syma X5C may seem like it's meant for pros, as it has a built-in six axis gyro that allows for stable flight in the air. There is also a 3D lock which enables it to practically fly itself, without the need for constant adjustment. It's simple for your child to do tricks on the Syma X5C. With the press of a button, it can do 360 degree eversions. It can be one, or continuos. When they're done with the tricks, the drone will resume its original position. The price range of the Syma is around $45 to $70. It actually comes with a built-in camera, making this one of the best drone gifts. You won't get pro quality video, but it's enough to keep your child entertained for hours. It even comes with an SD card so you don't have to purchase anything extra. Simply remove from box, charge, and fly.
Hubsan X4 H107C
If you're seeking an easy-to-fly quad that has a built-in camera, the Hubsan X4 H107C may be the perfect gift. This is a super-compact lightweight drone. It has LED running lights, making it easy to spot in the distance, or at nighttime. The Hubsan comes in three exciting color combos: Black with red stripes; black with green stripes; and red with silver stripes. It comes with a protective black guard, so that as your child learns to fly, you won't have to worry about damage, to it or to your home. Once they're a pro, it can be removed. This drone is affordable, around $50. It can do cool flips and tricks. There's no installation required. Simply take it out of the box, charge it up, and it'll be ready to fly. The radio controller has four channels, so if you want to buy a drone for each member of the family, up to four won't interfere if they're within close proximity of each other. The remote controller looks a lot like a video game controller, and there is a small LCD view screen for settings. The Hubsan also has four rubbery flexible feet guards to enable it to come in for a smooth landing.
UDI U818A
The UDI is larger than most quads, because of its unusual circular blade guards. This looks like one tough quad, able to withstand the crashes and bumps that a new drone pilot may subject it to. Despite the protective ring, it's still lightweight. Pricing is around $60-$100. The UDI U818A is also built to be customized. New additions can be attached. This is perfect for older children who may be looking for the next new thing. It may also be perfect for older kids who are interested in cinematography. The UDI will allow you to pre-program your flight path, so you can enjoy watching it soar through the sky, without having to spend a lot of time watching the controls. Your kid will need to use an iPad to access this full functionality of this feature. The propellers are also self-tightening, so you won't have to worry about them. The throttle lock on the radio controller will keep their fingers from getting tired. A trainer port will assist the beginner with learning to fly. This connects to a computer, and walks you through the launching sequence to have a successful flight.
Hubsan H107D
The Hubsan H107D is another great drone as gift purchase. To buy the full kit, with controller and camera will run you around $150-$250. The Hubsan runs like a professional quadcopter. It can be flown out to a distance of 50 to 100 meters, and video can be filmed up to 100 meters too. Your child can also fly this in the recreation room, if the weather outside is rainy or snowing. The Hubsan is built with the latest six axis gyro system that enables for stable drone flights. The protective airframe is lightweight, but still allows for high durability. There are also rubber feet on the base of the quad to help ease unsteady landings. The radio controller has an instant video preview, so you can see video as it's being recorded by the drone in the air. The Hubsan has running lights to enable it to be seen at a distance, and to be seen while flying at night. The camera is 0.3 megapixels and full color. Video footage can be recorded directly to the SD card, and then uploaded to the computer, and shared to Youtube or with friends later.
PREVIEW
BEST CHOICE
TITLE
Parrot AR.Drone 2.0 Power Edt orange, PF721007BG
Cheerson CX20 Auto-Pathfinder FPV RC Quadcopter with GPS Auto-return Function RTF White
DJI Phantom 2 Quadcopter V2.0 Bundle, 3-Axis Zenmuse H4-3D Gimbal for GoPro Hero 4 Black (White)
Parrot Bebop Quadcopter Drone - Red
DJI Phantom 3 Professional Quadcopter 4K UHD Video Camera Drone
FEATURES
▪ long flight time of 15 to 18 mins
▪ charge up additional battery packs
▪ Return to Home
▪ GPS System, Altitude, Aerial Video
▪ new remote controller, new propulsion system
▪ Zen muse H4-3D gimbal is included
▪ advanced 3-axis image stabilization
▪ Fly farther and faster with quick charging
▪ fully stabilized 3-axis gimbal
▪ allows stable flight indoors
HD VIDEO
sharp clear video quality
PREVIEW
TITLE
Parrot AR.Drone 2.0 Power Edt orange, PF721007BG
FEATURES
▪ long flight time of 15 to 18 mins
▪ charge up additional battery packs
HD VIDEO
sharp clear video quality
PREVIEW
TITLE
Cheerson CX20 Auto-Pathfinder FPV RC Quadcopter with GPS Auto-return Function RTF White
FEATURES
▪ Return to Home
▪ GPS System, Altitude, Aerial Video
PREVIEW
TITLE
DJI Phantom 2 Quadcopter V2.0 Bundle, 3-Axis Zenmuse H4-3D Gimbal for GoPro Hero 4 Black (White)
FEATURES
▪ new remote controller, new propulsion system
▪ Zen muse H4-3D gimbal is included
BEST CHOICE
PREVIEW
TITLE
Parrot Bebop Quadcopter Drone - Red
FEATURES
▪ advanced 3-axis image stabilization
▪ Fly farther and faster with quick charging
Parrot AR Drone 2.0
Parrot is one of the higher end lines of toy drones. If you want to really wow your kids, the Parrot 2.0 is the one to get. The 2.0 was originally released in 2012, but you can get some great deals on it today. It has a built-in camera, so your kids can enjoy watching videos of their fun flights. You'll want to decide whether you wish to purchase the radio controller for them, or whether they'll be happy running their Parrot 2.0 from an iPhone, iPad, Android or other smart device. The Parrot AR drone is also available in a Power Edition, that's only about $70 more. For the Parrot itself, expect to spend about $300. This drone has an amazingly long flight time of 15 to 18 minutes. You can choose a variety of different color options, but the Power Edition comes in black only. You'll be amazed at the sharp clear video quality of the Parrot AR 2.0 video camera. There are additional propellers included inside the box, so that you can create a different look with your Parrot drone. You can also charge up additional battery packs (with an additional purchase), so you child can have extra fun outside, without having to bring the Parrot back inside for recharging.
CX-20 Cheerson
The Cheerson CX-20 is another awesome quad, available for around $360. This model is meant more for the drone pro, so if your kids are done with their toy drones, and have achieved a high level of piloting abilities, this may be the next level up for them. The Cheerson is a full-sized drone in a sleek white plastic casing, with four white blades, with red highlights. While it does cost more, it's a great substitute if you can't afford the top end Parrot, which will set you back $1200. The Cheerson can fly at about twenty-two miles per hour on its fastest setting. You'll be able to fly the Cheerson out to a distance of 300 meters which is quite impressive. It takes about two hours to charge up the rechargeable battery. You can buy additional battery packs so at least your kids can each have a reasonable length of time flying. The return to home button is perfect for when kids are getting tired near the end of the flight or just losing interest. This function will return the drone to its original starting position.
DJI Phantom 1
The DJI Phantom 1 is an earlier model quadcopter, but it's still a great purchase for older kids. It should still be available for another year or two. Look for sales offering it for around $500. This quad would better suit kids aged 14 years and older, as there isn't a flexible rubber ring to protective it against crashes. It's an attractive premium line drone in sleek white, with red highlights. This quad can be flown right out of the box, after charging it up. It's also perfect for those who wish to capture professional quality film. If you have a business, the kids can help you out with filming video to use on your site. The Phantom 1 has IOC—Intelligent Orientation Control. This enables the pilot to keep the drone in the air, even if you're a bit clumsy at the controls. There are also additional failsafes that will help to bring your drone back to home base, if needed. The Phantom 1 will zip past ten meters for every second of time. It also has bright LED lights, which will help you to keep an eye on it, particularly at night time. One full charge will give you about ten to fifteen minutes of flight, depending on how many tricky moves it's put through.
Parrot Bebop
Photo by Ted Eytan / CC BY 2.0
The Parrot Bebop drone comes in at least two different color choices: yellow and black, or blue and black, to make it an exciting gift for teenagers. Not only can they enjoy the experience of flying, but they can also record amazing aerial footage of their outdoor experiences. This drone is built with feather-weight, durable material. It weighs under 400 grams. It's perfect if you're worried about buying a toy that's safe to fly around pets, small children, or the living room furniture. There are additional safety features, such as a return to home function, which brings it back to its starting point. It can be flown indoors or out, and includes an additional protective casing that's built especially for flights indoors. The Parrot Bebop comes with a full HD quality video camera. The Bebop is built on a stable frame, with stable gyro, so that film footage will be of pro quality and free of vibrations and black outs. It comes with a great fish eye camera, to capture more of the horizon. You can view footage from the Skycontroller, or from your smart phone. It takes 14 megapixel quality photographs. Photographs and video footage can be temporarily stored in the Parrot Cloud until you're ready to download and share your footage and photos. You can control the angle of the camera with the controls on the radio controller, or on the iPhone. The Bebop can be easily disassembled so that the parts can easily be carried in a backpack or case, for easy travel. The camera is attached to a stable magnesium shelf that resists bending while in flight. This drone will cost you around $450, and another $400 if you want the Skycontroller.
DJI Phantom 3
The DJI Phantom 3 has some great features, making it safe but fun to fly for both the beginner and the pro pilot too. It comes with a high-quality video camera, so your kids can record some amazing footage of their playtime on the field. It's available for about $700, with additional options that will cost you more. The flight control system is intuitive, helping to keep your quad stable in the air. This is particularly helpful if your kids want to film footage with the camera, as this stability will allow them to film pro-quality video. One of the options for the Phantom 3 is a 1080 megapixels aerial camera. It's attached to a stabilized flight gimbal, to allow for crisp clear images. You can also watch the video feed from most brands of smart phones. The flight controls allow for easy flying. There's little to preassemble, except to remove from box and charge it up before flying. It has a hover hold position that will await your next command. The LED running lights will allow you to visually track its movements, even at night time. There is the ability to set safe flight limits for your kids, so that you can ensure that the quad comes back if they push it too far.
Flying drones are one of the best, and most useful gifts you can purchase. It's a toy that will get the entire family outdoors, instead of sitting on the couch all day long. One of the listed drone as gift quadcopters is sure to make your child's eyes light up with glee on Christmas morning.
Whilst we aim to provide you the best priced products in the market in 2016, there are always special occasions like Black Friday & Cyber Monday where, all products are available at an extremely discounted price on Amazon through deals. Click Below!
Last Updated On