A smokeless burn barrel is a device used for burning household waste safely and efficiently. They are designed to reduce the smoke produced during the burning process, making them a more environmentally friendly option than traditional burn barrels.
When purchasing a smokeless burn barrel, it's essential to pay attention to features such as the size of the barrel, the materials used in construction, and the type of lid or cover it comes with.
A larger barrel can hold more waste, while a barrel made of heavy-duty steel or cast iron will be more durable and long-lasting. Additionally, a lid or cover that can be adjusted or removed easily will make it easier to control the burning process and access the waste inside.
Key Takeaways:
A smoke burn barrel has many holes that allow sufficient oxygen circulation to enhance combustion.

A smokeless burn barrel utilizes secondary combustion to reduce smoke and increase temperatures.
Here are my five best picks after months of testing each smokeless burn barrel:
Best Large Smokeless Burn Barrel for a Larger Backyard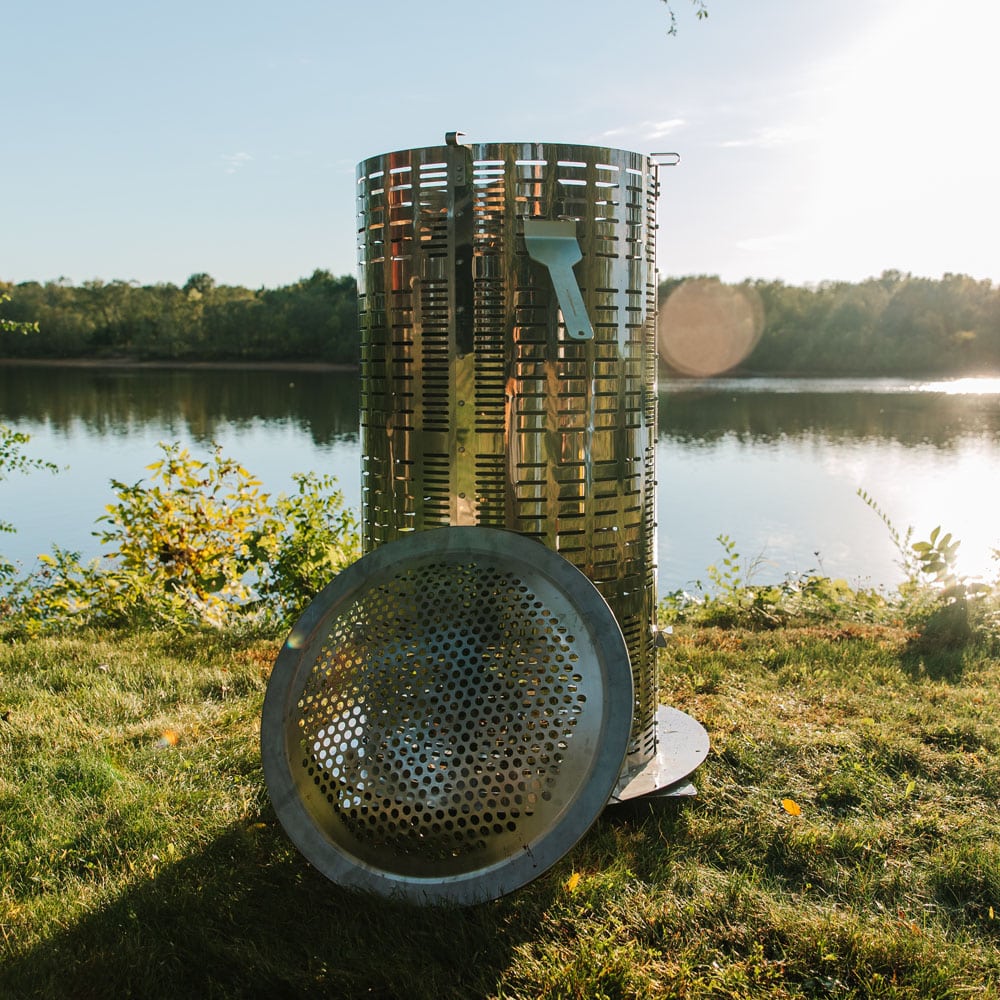 Not everyone's backyard is of the same size. If you have a huge backyard, you should opt for the Burn Right Home Incinerator. I love that it's made of stainless steel, making it perfect for outdoor use without worrying about rust.
It's also well-ventilated with many holes to ensure proper air movement. I also didn't have to deal with a lot of smoke, which is often the biggest concern for many.
Efficiency is another factor I loved more about this burn barrel. The airflow system ensures temperatures reach as high as 1600 °F. High temperatures result in nearly no smoke, making it a great waste disposal in any neighborhood.
The high temperatures also ensured all the debris burned fast, and I could burn all my waste in less than an hour.
The cylindrical shape came in handy when burning large chunks of waste that wouldn't fit into smaller incinerators. If you're like me and have to deal with a lot of trash and have enough backyard space, you should go for the Burn Right Home Incinerator.
Pros
Nearly smokeless fires

Easy to clean

Huge burn capacity
Cons
The price could be a bit steep if you are on a budget
Best Medium Burn Barrel for Medium Backyards

If you have limited space in your backyard to accommodate a bigger burn barrel, go for a smaller barrel. I discovered the Camco 22-inch Burn Bin ideal for medium spaces. First, I loved the design, making it appear as a vintage steel box. However, the cage is made of high-strength carbon steel, providing durability and strength.
There are a lot of air spaces around the steel cage for proper airflow that promotes combustion. Using this burn barrel, I could burn up to six cubic feet of materials. The solid lid came in handy in containing the sparks, which could be a nuisance and spread fire to other components.
I also put the burn barrel together effortlessly, taking only 15 minutes to accomplish this.
Pros
Smaller footprint

The tab design makes it easy to assemble

Easy to store flat

It doesn't produce much smoke

Burns materials fast
Cons
Not rust-proof, but the paint does its best to reduce corrosion

Tight corners are hard to clean
Check the Camco 22-inch Burn Bin's latest prices on Amazon
Best Smaller Burn Barrel for Limited Spaces

If space is an issue, or you prefer a smaller burn barrel for whatever reason, then Yard Tuff YTF Incinerator is what you need. I loved its small, sturdy design, making it strong and durable to last longer.
The laser-cut ventilation holes ensure proper airflow, and that promotes combustion. With high temperatures, you're guaranteed less smoke and debris burning to ash. The tight lid also prevents embers and stray sparks.
Thanks to the short manual, it took me less than half an hour to assemble the burn barrel.
The burn barrel is also small enough to fit into a balcony and smaller backyard spaces. I found it useful to burn trash like papers and other small debris.
Pros
Light to carry and move around

Burns trash to ashes

It's affordable
Con
Not ideal for burning vast amounts of trash
Check the Yard Tuff YTF Incinerator's latest prices on Amazon
Best Stylish Burn Barrel

We all want our backyard as stylish as possible, and adding a vast barrel doesn't make things easy. Instead, it would be best if you opted for a stylish yet practical burn barrel, and I'd recommend Tiki Brand 25. The barrel's design is innovative and stylish, resembling a coffee table to complement the backyard furniture and setup.
Standing only 18" high and 25" in diameter, the burn barrel has the right height to pass for a table and enough surface to light a fire.
The open space makes it easy to clean and handle.
Pros
16-gauge stainless steel

Patented internal airflow

Small enough to store in a corner
Cons
It's a bit expensive but worth the money
Check the Tiki Brand 25's latest prices on Amazon
Best Smokeless Burn Barrel FAQs
How Does a Smokeless Burn Barrel Work?
Smokeless burn barrels have many ventilation holes to allow enough oxygen into the fire. The more oxygen a fire gets, the more it burns, ensuring all the trash and debris burn to ashes. Additionally, a steady airflow reduces smoke emissions and air pollution.
The lid helps prevent sparks from spreading and possibly igniting flammable materials like gasoline, clothes, and paper.
Start by placing dry materials like papers, clothes, and anything else flammable at the bottom of the barrel. Add other materials like pieces of wood and plastic on top. Pour a little gasoline or paraffin on the waste materials to light. Lock the lid firmly and light up the fire.
Observe safety precautions like standing safe from the fire until it cools down. A good burn barrel burns down the trash in less than an hour, clearing room for the next batch.
How Do You Make a Burn Barrel Not Smoke?
You can make a burn barrel smokeless by ensuring it gets enough air supply when burning. Fire requires oxygen for combustion, and lacking it leads to more smoke. That's why it's crucial to drill as many holes around the barrel as possible. However, focus on the bottom of the barrel, closer to the heart of the fire, for maximum effects.
Additionally, ensure you burn only dry materials. Wet materials like pieces of timber and paper take a long time to burn, and they're known to produce a lot of smoke. Spread out the waste in the sun to dry before burning them.
Does a Smokeless Fire Pit Really Work?
Smokeless fire pits work by drastically reducing smoke, keeping the fire burning, and ensuring all the debris burns to ashes.
The double-wall design promotes secondary combustion. It's a process where hot oxygen from the fire mixes with smoke particles and ignites to burn again. The result is high temperatures that burn down everything inside the fire pit and reduced smoke levels.
You can stand around a smokeless fire pit without worrying about inhaling smoke particles, eye, and throat irritation, or smelling like a bonfire for days.
Are Burn Barrels Good?
Burn barrels are excellent for getting rid of unwanted combustible materials. The reduced smoke levels and higher temperatures ensure a cleaner environment. They also contain the waste materials in one place until they burn down completely, ensuring nothing scatters in your backyard.
You don't need an exceptionally bigger burn barrel, as medium and small ones would work. You can make one using older barrels if you can't afford to purchase one.
Why Are Burn Barrels Illegal
Burn barrels are illegal since they create toxic fumes like styrene oxide, benzene, formaldehyde, and furans. These toxins come from burning materials in high temperatures. Inhaling these toxic fumes could have devastating health effects.
Homemade Smokeless Burn Barrel
You can make a smokeless burn barrel using an old barrel. However, you must understand how the fire pit works to avoid smoke emissions. The DIY steps involved vary, but this is how to do it:
Use two old barrels, one inside the other, to promote secondary combustion.

Ensure that there are enough holes to allow proper air movement.
The best homemade barrels include:
When handling the burn barrel DIY project, it's crucial to observe safety tips, especially when dealing with vortex and turbo materials.
Do Burn Barrels Need Holes?
Burn barrels require many holes to allow proper air movement. Oxygen is crucial in combustion. Proper air movement also reduces smoke levels.
Why Smokeless Burn Barrels
Smokeless Burn Barrels are crucial in disposing of household waste without polluting the air. They burn hot and fast, guaranteeing the debris will burn down within an hour. However, it's crucial to observe proper safety measures, like standing far away from the flames. Wearing a mask and other protective gear is crucial if you detect any smoke.