When choosing a projector, you have two main types to choose from – laser and lamp. Both have their advantages and disadvantages, so it's essential to know which one will best suit your needs before making a purchase. In this article, we'll discuss the key differences between laser and lamp projectors so that you can make an informed decision.
Advantages of laser projectors
Laser projectors are becoming increasingly popular due to their many benefits. For starters, they emit very little heat, so they don't require expensive cooling systems like some lamp-based projectors. Laser projectors have a much longer lifespan than their counterparts – up to 20,000 hours compared to just 4,000 for a typical lamp projector. Finally, laser projectors offer superior image quality, with brighter and sharper images that are easier on the eyes.
Drawbacks of laser projectors
Laser projectors also have a few drawbacks. Firstly, they are generally more expensive than their lamp-based counterparts.
Secondly, they require periodic calibration to maintain optimal image quality. And finally, some people find a laser projector's fan noise slightly annoying.
Advantages of lamp projectors
Lamp-based projectors have been around for longer and are thus more affordable than their laser-based counterparts. Additionally, they don't require calibration and can be used with any screen.
Drawbacks of lamp projectors
Lamp-based projectors have several disadvantages as well. Firstly, they emit a lot of heat, requiring expensive cooling systems. Additionally, their lifespan is shorter than laser projectors, meaning you'll have to replace the bulb more often. And finally, lamp-based projectors don't offer the same level of image quality as laser projectors.
So, which type of projector is right for you? If you're looking for the best possible image quality and a long lifespan, then a laser projector is the way. However, if you're on a budget or don't mind replacing the bulb every few years, a lamp projector may be a better option. Note that this list stands for all types of projectors, short throw, long-throw, TV projectors, etc…
Is a Laser Projector Better Than a Lamp Projector?
When looking for the best projector, there are a lot of things you'll need to consider before you decide on which is better.
For instance, comparing the lifespan of 2000 -3000 hours the lamp projectors take before they die off with the 20,000+ hours that laser projectors take to reduce their brightness, Laser projectors are convenient and a great way to save money.
Even though laser projectors are expensive, they are long-lasting and are easy to maintain. Lamp projectors require constant maintenance by replacing the bulbs, which might be costly.
Another thing to consider is the brightness, whether you intend to use it indoors or outdoors. The light intensity of more than 3500 lumens of a laser projector like LG CineBeam Projector is higher in contrast to the lamp brightness of 2000 lumens.
All these factors make laser projectors the better choice, however, choosing projectors depends on what makes you comfortable.
Are Laser Projectors the Best?
If we look at some of its core features, we can say it's among the best projector technology. One thing about entertainment: laser projectors have an enormous screen of 150 inches that can be used for a larger audience at homes, schools, cinemas, churches, and many other platforms.
They also come with unique inbuilt features like speakers and smart technology that makes programming and operating them an easy task for anyone.
Laser projectors are long-lasting, with some having up to 30,000 hours. Check out Optoma CinemaX P2, which can be used for years without worrying about replacing lamps and other hefty maintenance.
We reviewed some of the best laser projectors to help you decide if you are planning to buy a projector.
VAVA DLP 4K Ultra Short Throw Laser Projector VA-LT002
If you are into the big screen, VAVA DLP is your best pick. With a fantastic projection of up to 150 inches from a short throw, it's a great way to uplift your home theater and save space when not in use.
This laser projector has a brightness power of 2500 lumen and contrast of 1,500,000: 1, and a resolution of 4K HD. The gadget has a lifespan of 30000 hours depending on how you use it.
Its unique design, brightness, and design make it our top laser projector at home that's worth the value of your money.
Samsung the Premiere 4K LSP9
This projector comes with three laser sources of blue, red, and green with a wide color gamut of 147% of DCI-P3 and 106% of BT.2020. that makes it produce quality color images with near-instant on and off.
Samsung the premiere projector can last more than 20,000 hours; hence no need to worry about replacing the lamp or the quality of light plummeting.
Modeled with a curved chassis that blends in with interior designs, it measures 550 by 141 by 367mm, which makes it portable and flexible to move around when you want to position and enjoy your best movie.
Samsung the Premiere 4K LSP9 gives a 130 inches view and a lumen of 2800 with 4K Ultra HD embedded with XPR technology. Enjoy this modern projector with this modern projector, your built-in Wi-Fi, Bluetooth, AirPlay, and the perfect sound system.
Optoma CinemaX P2

This laser projector comes with a screen display of 120 inches with a contrast ratio of 2,000,000:1 from a short distance throw with this space saver Optoma CinemaX P2.
This laser projector is fixed with a brightness of 3,000 lumens that can last for 30,000 hours. With its 6-color segment wheel, you'll enjoy excellent image shade variations using this laser projector.
Optoma CinemaX P2 technology of 4K UHD and HDR10 allows you to experience a high-quality cinematic experience at the comfort of your couch.
The projector allows you to use voice assistant apps like Alexa on Amazon Echo and Google Home smart devices. Its smart fit app will enable you to adjust the screen and set it up as you wish
LG CineBeam Projector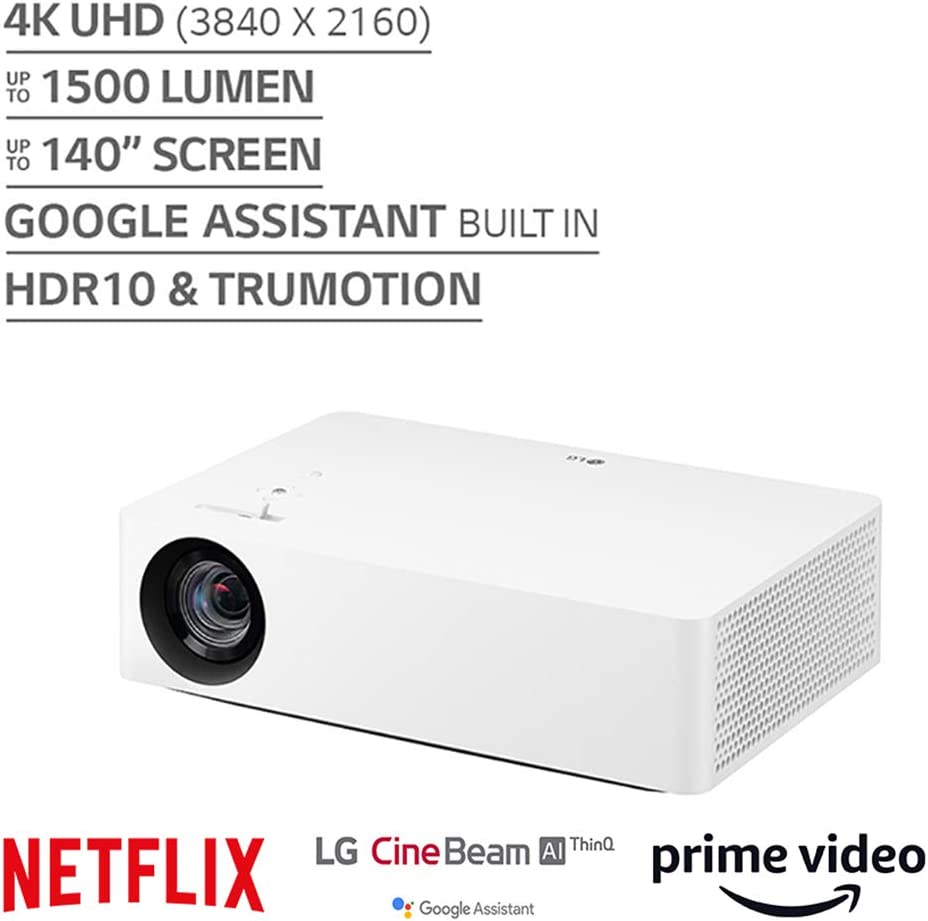 LG CineBeam Projector is your best pick for your home theater if you love watching movies from the big screen and are looking for a 90 – 120 inches frame display.
It has classic features such as a 2000000:1 contrast ratio with 3700 color lumen that allows you to bring quality images into your small space.
This laser projector you can stream in from Netflix, YouTube, Apple TV, and many other platforms using its in-built webOS. Enjoy your movie with a quality sound system with the projector in-built 40 W speakers.
Coming in a unique design, this laser projector is a space saver and the perfect way to watch your movie at home.
Optoma GT1090HDR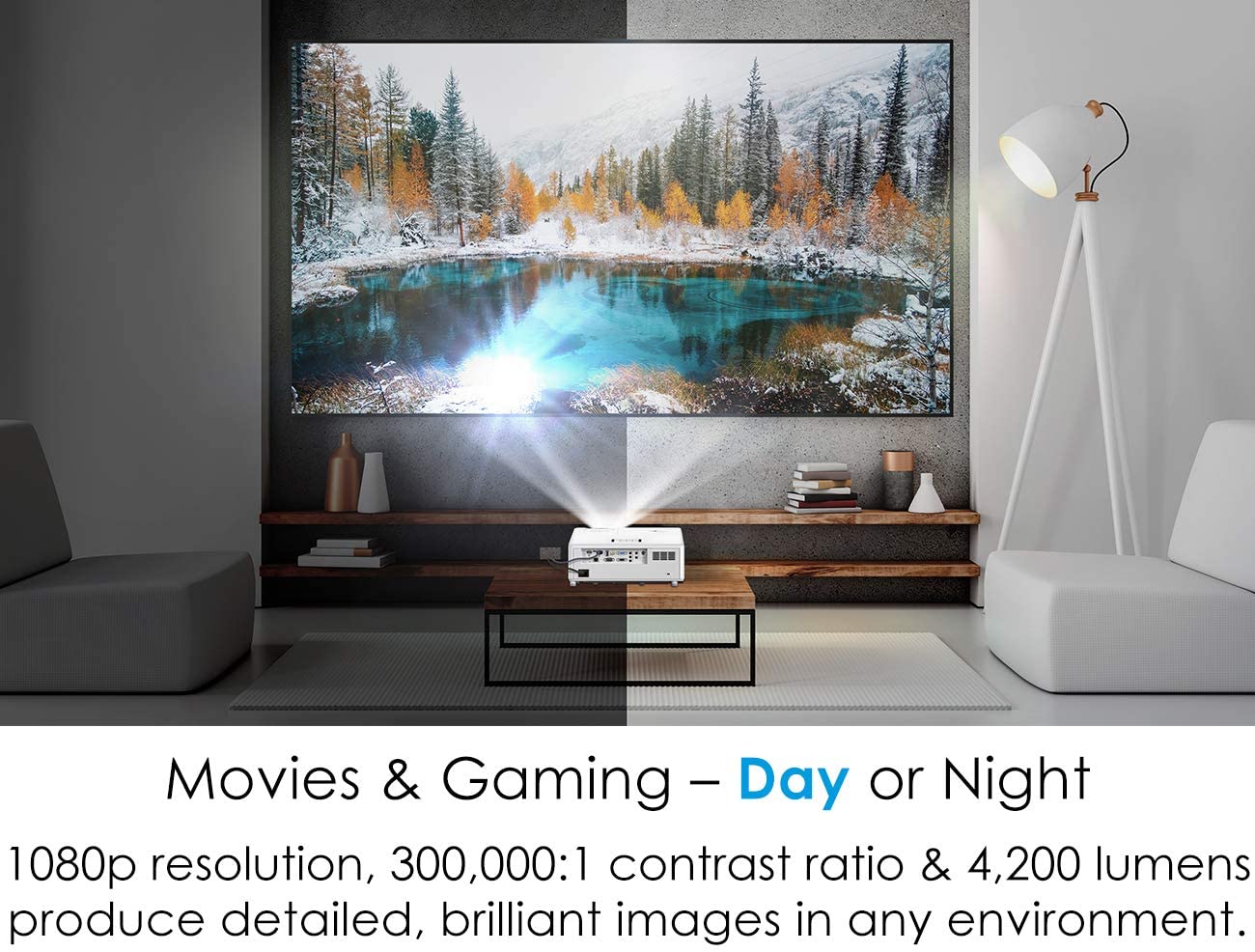 This projector is ideal for gaming and movies. Enjoy a 120 inches screen display with a contrast of 300000:1 ratio. With an incredible resolution of 4K, HDR10 and HLG get your brighter whites and deep blacks images clearer.
It comes with a brightness of 4200 lumens. You can use it on any lighting intensity from in your house or outside.
Optoma GT1090HDR provides comfort in your living room while playing and watching your favorite movie.
Epson Pro Cinema LS1200 4K Pro-UHD Laser Projector
If you are looking for a gaming projector, this is the perfect fit with its unique 4K at 120 frames per second designs are tailored to bring you epic gaming capability. Epson Pro Cinema LS1200 4K Pro-UHD comes with 2700 lumen of colors, enabling your eyes to marvel at the 4K PRO-UHD brightness that brings quality images to view.
With its Epson ZX Picture Processor, you'll adjust resolution, brightness, and color to experience a real cinematic thrill.
Epson Pro Cinema LS12000 4K Pro-UHD Laser Projector comes with installation kits that are ideal for the ceiling.
Laser Projector Vs. Led?
LED and laser projectors' advanced technology gives them a longer lifespan and is more eco-friendly than the pioneer lamp projectors.
When you compare the two in terms of other features, you will see that they have almost similar functionalities like longer lifespan, increased brightness, and minimum maintenance.
There are differences, too, for instance, the LED color gamut is inbuilt with 125% color saturation and produces high-quality images, compared to laser projectors that use color wheels that are prone to rainbow effect in case of any glitches.
When it comes to size and noise, LEDs are smaller in size and are generally quieter compared to any other projector.
Lcd Vs. Laser Projector
LCD projectors use crystal liquid to produce light vastly used in TVs and computer displays with red, green and blue as the primary colors that combine to create quality images for display
They are relatively easy to operate and give a wide array of shades of colors. LCDs are not as expensive as laser projectors, with a minimal rainbow effect in case of any glitches.
Laser Projector Vs. Oled
Oled technology ensures a deep viewing angle, excellent color contrast, and high-quality images with organic light diode devices. Oled is also durable and eco-friendly compared to other technologies.
Although laser technology screen displays outshine the Oled, which comes with a screen size of 85 inches compared to the laser that can go to 150 inches, oled color accuracy makes it the best.
The installation process is simple, plug into a socket, and you are good to go. The laser requires setting it up and adjusting various programs to fit what you want.
With 4K laser projectors, Oled falls short of its brightness, making laser projector your best pick and a great way to experience cinematic effects at home.
4k laser projector
Technology search for near-real images has led us to 4K projectors that give high-quality images and videos. 4K projectors bring the 4 k performance display to your wall.
Additionally, with a projector's screen of up to 150 inches, the cinematic thrill at the comfort of your home is brought to life to its pleasing visual.
Pros And Cons Of Laser Projector Vs. Lamp Projector
There are a lot of things that you will need to consider before deciding on a projector to buy. Factors like lifespan, maintenance, and capabilities must be considered. We narrowed down some of the pros and cons of the laser projector and lamp projectors to help you decide.
Laser projectors
Pros
They are long-lasting. Some take up to 30,000 hours.

They are brighter with a wide array of colors that produce high-quality images.

Great way to save space while not in use.

Does not require regular replacement.

Does not overheat
Cons
Laser projectors tend to be expensive.

They are noisier.

Installing them can be a complicated process.

Lamp projectors
Lamp Projectors
Pros
They are affordable

Easy to use
Cons
Shorter life spans

Needs lamp replacement

Not very bright as compared to laser projectors

Continuous use leads to overheating and requires cooling off.