Truckers spend most of their time on the road. Thus, they rely on wireless communication and audio devices to make phone calls. Headsets help truckers keep both hands on the wheel while still making and receiving important calls.
A trucker headset must be comfortable enough to wear for a long time and be open enough for the trucker to maintain constant awareness while hitting the road. Stay with me as we discuss things you should consider while buying a trucker headset, why truckers require a headset, and review top-rated headsets for trucking.
What Features are Essential to Consider Before Buying a Pair of Headphones for Truckers
You can't just pick any headset to use while on the road. Headsets that prevent you from hearing critical traffic noises are likely to pose considerable safety risks while driving. Make the right choice as you consider some of the factors below when buying a trucker headset to enhance your safety and other motorists.
Comfort and Durability
Prioritize comfort. If the headset isn't providing the comfort you need, ditch it. Pick lightweight headsets with padded headbands and ear cups. Please avoid plastic-made headphones because they can get hot after extended use.
Noise Cancellation
You need to pick a headset with noise cancellation capabilities as a trucker. Truck drivers encounter ambient noise from the truck, local traffic, and other background noises. The noises can easily ruin your listening experience. Therefore, your headset should incorporate superior noise cancellation technology to hear your favorite songs or audio programs.
Battery Life
The best headset device should have a healthy battery life to power you throughout your trip. The excellent battery allows you to listen to your favorite songs while making a delivery across the country. Select headsets that can last up to 8 hours at least.
Hands-Free Operation
Truckers need to travel from point A to point B without distractions. Thus, ensure your device allows hands-free operation. Having a voice command at your beck and call makes it easy to operate your headset without the need to take your hands off the wheel.
Sound Quality
Ensure your headset incorporates the latest audio enhancements and noise cancellation technology to improve your listening experience.
Wireless Connectivity
Wired headsets with cables are messy and obstructive. Check for the wireless range of your wireless headset, the ability to connect to multiple devices simultaneously, and the ability to pair by tapping the headset against NFC (Near-Field Communication) supported device.
4 Best Headsets for Truckers
Wireless audio and communication devices form the backbone of logistics and transport. Here are the top-most choices for the best trucker headsets;
Best overall: Plantronics Voyager 104 Bluetooth
Best Bose: Bose Bluetooth headset series 2
Best noise canceling: EKSA noise canceling trucker Bluetooth headset
Best BlueParrott: BlueParrott B550-XT
Let's dive in!
Best Overall Trucker Bluetooth Headset
The Plantronics Voyager 104 Bluetooth headset is a mono headset with an over-the-head design and memory foam headband. It integrates an ear cup to provide optimized comfort. The great headset provides excellent audio technology that connects to your favorite audio devices via Bluetooth.
The trucker headset has a long-lasting battery life of up to 24 hours on a single charge. A Plantronics Voyager 104 Bluetooth headset has Nano rainproof coating, which makes them water resistant. They have excellent noise-canceling technology that can eliminate 99.6% of the background noise.
It is easy to control the headset directly from the ear controls, even if you wear sturdy gloves. The glove-friendly controls allow you to switch back and forth from making calls to listening to music.
Features
Battery life

: 24 hours of battery life

Noise cancellation

: Eliminates 96% of background noise

Connectivity

: 60-foot Bluetooth range

Comfort elements

: Memory foam headband and ear cup
Pros
It is waterproof

Long-lasting battery life

Powerful noise-canceling features

Highly comfortable

Easy to control with gloves on

Excellent sound quality
Cons
It takes up to 3 hours for a full charge
Check The Plantronics Voyager 104 Bluetooth headset's latest prices on Amazon
Best Bose Trucker Headset
Bose Bluetooth headset series 2 offers premium sound quality when making calls or playing music. The device is lightweight (12g) and features a curved design to enhance comfort and fit. It has four controls, including a call button, a power switch, and volume up and down control buttons.
The headset integrates Bluetooth 2.1, which has a connection range of roughly 60 feet. It has a Lithium-ion battery which delivers 4.5 hours of talk-time (100 hours of standby).
Bose headset features adaptive audio adjustment technology to automatically adjust volume levels based on noise from the surrounding environment. In addition, it has a noise-rejection microphone to filter out unwanted noise.
Features
Battery life:

4.5 hours

Noise cancellation:

Adaptive Audio Adjustment technology and noise-rejection microphone

Connectivity:

50 feet Bluetooth range

Comfort elements:

Silicone ear tips and lightweight
Pros
Offers crystal clear sounds

Excellent noise-rejection technology

Easy to use with intuitive controls

Highly durable and comfortable
Cons
The battery life is only 4.5 hours
Check the Bose Bluetooth headset series 2's latest prices on Amazon
Best Noise Canceling Headset for Truckers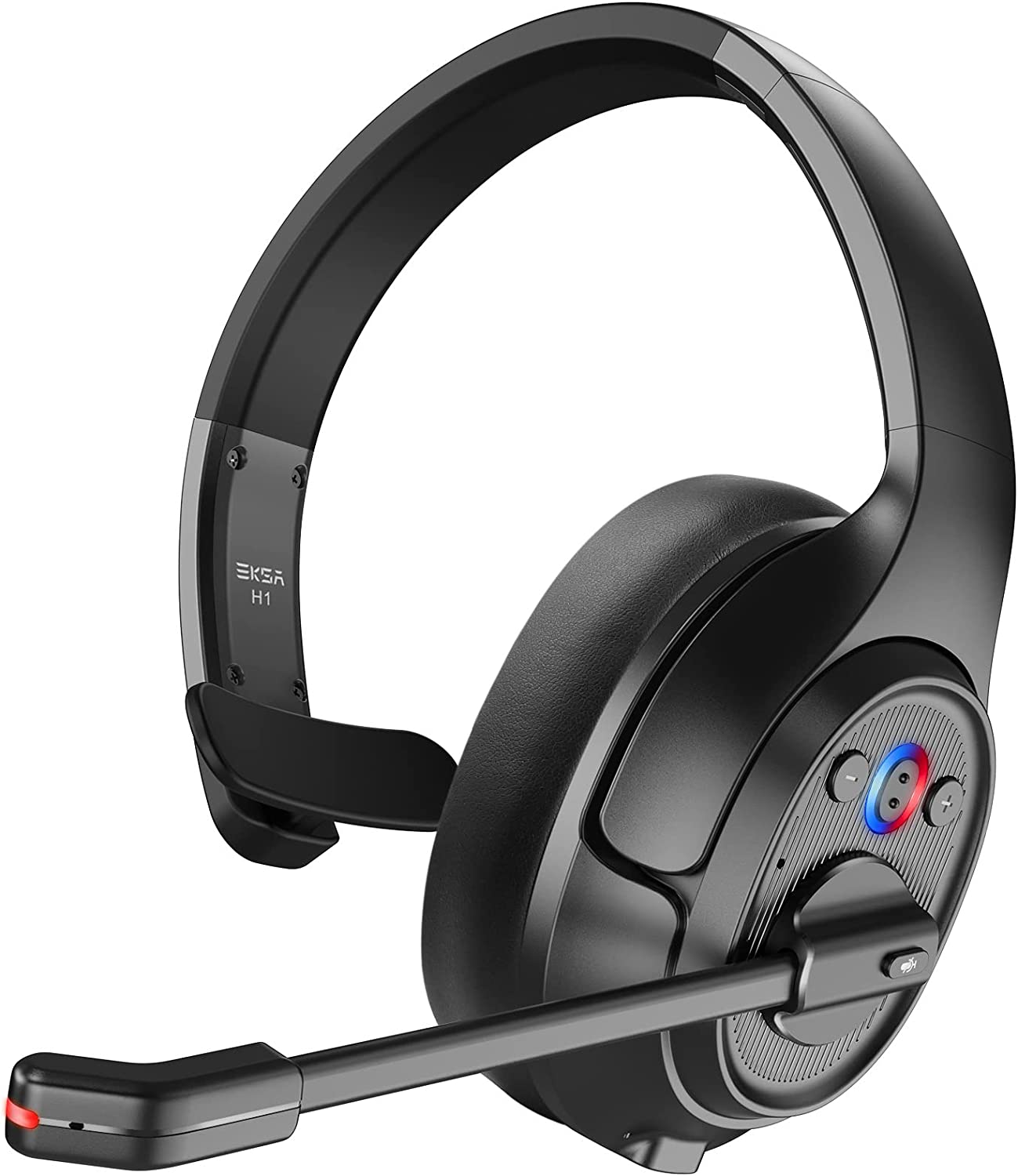 The EKSA Noise-canceling Bluetooth headset is a simple but effective trucker's headset. It integrates detachable ear pads, an adjustable mic, and swiveling ear cups. The EKSA headset ensures solid connection with an impressive range of up to 50 meters.
EKSA Bluetooth headset allows the pairing of multiple devices. It has simple controls on the side and a mute button on the microphone arm. EKSA headset cancels out background noise and isolates your voice. The headset integrates an AI noise-canceling technology to provide clear sounds of up to 30 hours of talk time and 57 hours of music playback.
Features
Battery life:

30 hours

Noise cancellation:

Excellent

Connectivity:

50 meters Bluetooth range

Comfort elements:

Adjustable mic and ear cups that can swivel
Pros
Long-range Bluetooth pairing

Excellent battery life

Produces clear sounds

Sturdy enough to handle falls
Cons
Lacks padding on the headband
Check the EKSA Noise-canceling Bluetooth headset's latest prices on Amazon
Best BlueParrott Headset for Truckers
The BlueParrot B550-XT headset is a wireless device with a wireless range of up to 200 feet and can connect up to 2 devices. The headset has superior noise suppression abilities to ensure your voice is heard loud and clear. B550-XT has a talk time of up to 24 hours (standby time of 400+ hours).
BlueParrot headset gives you complete control of calls and music without lifting a finger. Truckers can use the headset in hot, cold, wet, and dusty conditions. The headset is rated with water and dust-resistant properties. It operates well in the temperature range between -10 degrees Celsius to 60 degrees Celsius.
Features
Battery life:

24 hours

Noise cancellation:

Eliminates up to 96%

Connectivity:

90 m (200 ft) Bluetooth range

Comfort elements:

Padded headband and lightweight (165g)
Pros
Perfect for use in extreme weather conditions

It has superior noise suppression features

It has a long-lasting battery life

It has excellent connectivity to multiple devices
Cons
Charging time is slow (3.5 hours)
Check the BlueParrot B550-XT's latest prices on Amazon
Why do Truckers Wear a Headset?
Federal Motor Carrier Safety Administration (FMCSA) forbids truck drivers from talking on the phone without using the hand-free mode. Due to the constraint, a trucker should have a good-quality trucker headset for the following reasons;
Make Trouble-free communication

when answering important calls and communicating with family or colleagues.

Give weather conditions update to the fleet management
Continuous communication with the fleet manager
Voiced navigation
Noise cancellation
Is BlueParrot Better than Plantronics?
BlueParrots headset is better for phone calls than the Plantronics Bluetooth headset. BlueParrot has an extended battery life, and its microphone has a better recording quality. On the other hand, the Plantronics headset provides a more balanced sound profile with high-level voice clarity.
Related: Headset vs. Headphones For Gaming – Which Should I Choose?
Conclusion
Truckers sit in one position for long periods. But thanks to trucker headsets, they can keep their hands free for driving and completing other tasks. Use the headsets mentioned to connect with smartphones and communicate with family, friends, or fleet managers.