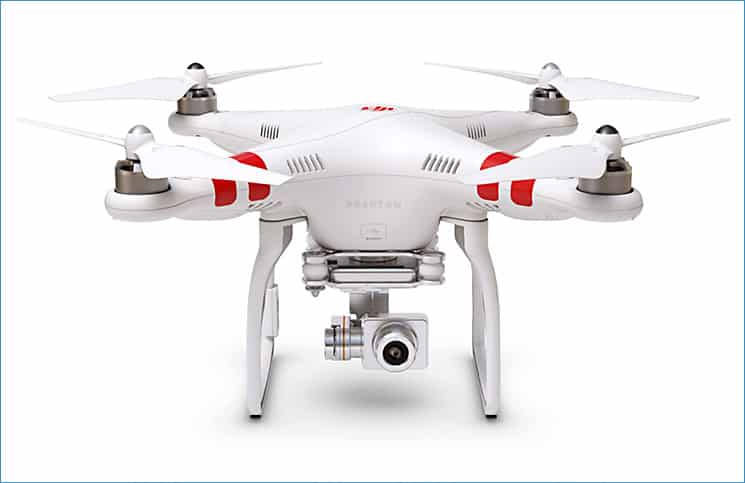 The DJI Phantom line of quadcopters is used by professional photographers and videographers in the making of their videos and images for commercial industries. As a result, the DJI Phantom 2 Vision + is highly coveted by both beginner, player, and pro alike.
The DJI Phantom 2 Vision+ is a quadcopter with a sleek white casing and red striped markings. It has two large landing pad structures surrounding either side of an exceptional camera. There are green LED running lights to help you keep track of your drone in air or at night time.
While the DJI Phantom 2 Vision+ is no longer being manufactured, there is still plenty of stock in stores, and you may just get a great deal that is normally a bit out of reach of the average hobbyist.
Best features of the DJI Phantom 2 Vision+
The DJI Phantom 2 Vision+ offers precise flight and stable hovering, to keep your drone in the air, even if you're not a pro yet. There is an integrated GPS auto-pilot system that holds position, and provides an altitude lock with stable hovering. This combines to give you a consistently stable flight, so you can spend less time at the controls, and more time snapping great shots, and filming great video.
The DJI Phantom 2 Vision+ offers an unprecedented photographic experience that pro photographers can aspire to. You'll be able to connect the drone to your mobile device. This will enable you to take you photos and videos from the app. It will give you a new perspective, rather than just blindly hoping that the photos it's snapping look great.
This app enables an FPV—First Person View—that you can actually view live from your mobile device. This wireless connectivity will work up to a distance of 300 meters. It provides Real-Time telemetry data and flight parameters.
You can download the iOS app from the Apple App store, and the Android App from the Google Play store. Photos and video from the Vision can be sent directly to your smart phone, through WiFi. You do not need to hook up your drone to your computer to get photos and video off of it. If you have limited storage capacity, data can be saved to your Cloud account.
One of the fun aspects of the drone hobby is the ability to share it with others. You can share your timeless memories, even when your friends and family are not right there with you.
You can save your images and video, and share to Facebook, Youtube, Instagram, Twitter, Pinterest, Google +, and more.
The camera is integrated right into the underside of the DJI Phantom 2 Vision+. The FOV and aperture are 140 degrees, wide angle f/2.8.
This high performance still and video camera includes a 4GB micro SD card. You can always purchase additional cards if you wish to have additional memory storage.
The camera will shoot at full HD video at 1080p 30/60i, and take 14 megapixel still photos. Most drone cameras can only shoot at one angle, but you can actually have full camera tilt control on the tilt axis. You can control this via the app, and it's simple and easy to use.
Through the use of your app, you can take photos whenever you want. You can start the video camera for recording mode, even when the drone is already in the air.
Camera filters can boost the look of photos and video, and make the colors come alive, even when it's a cloudy day out. Another neat aspect of the camera is that you can attach filters, to make your pictures come alive. The camera can take a variety of 46 millimeter lens filters to achieve a variety of different effects.
Adobe has partnered with DJI and created a new lens profile that actually decreases lens distortion. Instead of a curved skyline, it will appear straight.
The app has a wide variety of settings that can be adjusted. Change picture quality, ISO, exposure compensation, white balance, etc.
The DJI Phantom 2 Vision+ also has a built-in compass, to help gauge location, and a return to home function, when the power is running low, or you're getting tired.
The DJI Phantom 2 Vision+ Radio Controller
The remote controller is in a white finish, and has two main toggle switches on either side of the on/off switch. A clamp holds your smart device securely. It feeds data from the drone through to the controller, and directly to your smart phone. This enables for the monitoring of real time data of your live camera view. It works up to a distance of 300 meters, via a Wi-Fi wireless connection.
Additional benefits of the DJI Phantom 2 Vision+
The DJI Phantom 2 Vision+ is lightweight and easy to carry. It will conveniently tuck into a bag or backpack, for your outdoor adventures. It weighs 1160 grams, and measures 29 centimeters by 29 centimeters.
After one charge, the DJI Phantom 2 Vision+ will fly for nearly 25 minutes. That's almost triple the amount of time that other quad brands will fly for. The battery can easily be changed, so you can have more flying time in the air. It takes only seconds to snap it out, and place the new one in.
There is ground station support. It's like programming in a flight plan, so you don't have to spend the entire flight fiddling at the controls. You can let the quad take over. You start by programming in a flight path with your smart phone. The ground station support has a 16 waypoint system.
During flight you'll be able to tilt your camera up or down, while taking photos and shooting video footage. This all happens while the DJI Phantom 2 Vision+ Quadcopter flies autonomously.