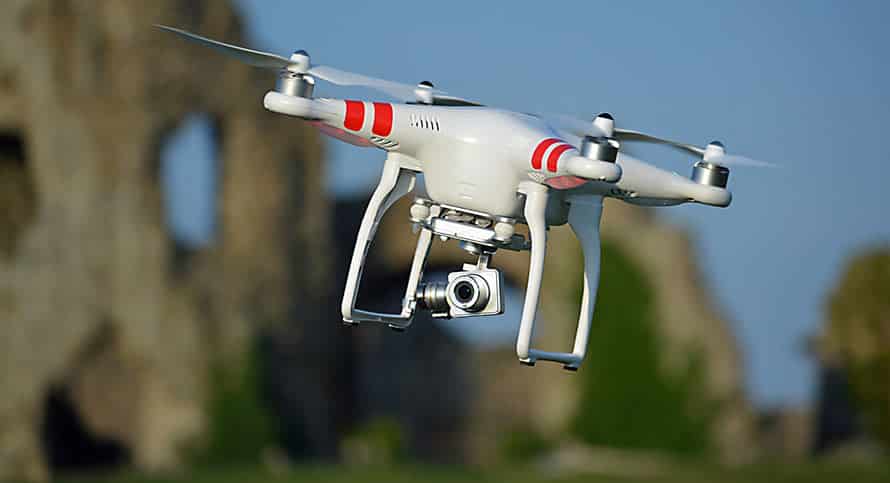 Photo by Vicki Burton / CC BY-SA 2.0
What is DJI Phantom 2?
The Dji Phantom 2 drone is one of the top of the line unmanned aerial vehicles ("UAVs") of all those available today; with a considerable but not unbelievable price tag and great features. As this DJI Phantom 2 review will show, It may not be for the casual hobbyist (at least, not yet) but is overall of exceptional quality. Released in late 2013, this quadcopter is an advanced version of its predecessor, the Phantom by Dji.
Phantom 2 is a fairly compact, white and red UAV drone/ "quadcopter," or a helicopter – shaped drone. Its main purpose is aerial photography, especially for serious photographers, though it is not at all a bad choice for the inexperienced user, since flying is incredibly easy.
Possible uses for the slim, versatile and simple Dji Phantom 2 drone camera include: sports photography, event photos, panoramas, wildlife or safari photography, and pretty much anything else requiring a "tripod in the clouds" according to the Dji Phantom 2 review at www.dji.com.
Unlike many UAVs and RC drones, Phantom 2 requires very little work on your part aside from regular upgrades, as configuration is pretty much already done upon purchase. It is ready to fly as soon as you take it out of the box.
There are three versions of the Dji Phantom 2: the Phantom 2 Vision, Phantom 2 Vision+ and Phantom 2 Vision + H3 3D.
Dji Phantom 2 review: The Vision:
This is the standard form of the Dji Phantom 2, with essential features such as: the ability to take both video and stills, Wi-Fi sharing and ground support, nearly a half hour of flight time, a really superb camera, and more. Helpful functions to improve overall experience include: self- tightening propellers, camera tilt protection, lens distortion touch up, the ability to install a variety of different lens filters, and the ability to sync media albums to your phone via Wi-Fi.
Check Price Of Phantom 2 On Amazon
Dji Phantom 2 review: The Vision+:
Vision+ just has some more features than the Dji Phantom 2 Vision. Although flight time is still 25 minutes, it has an automatic return home feature. This kicks in if the drone gets to be certain distance away a pre-determined point (home).
Another really great addition in this pricier model: the ability to (through Wi-Fi) see exactly what the drone is capturing in real time via smart phone. The plus comes with a built in 4GB SD card, and while the Vision's camera is great, this one is better. Power and control are also amped up with the plus without reducing flight time or battery life.
Check Price Of Phantom 2 Vision + On Amazon
Dji Phantom 2 review: The Vision+ H3 3D
Finally, the H3 3D is the best possible version; if camera quality is a big concern, this is the model to choose, as it has the absolute best video quality. Perhaps more for an experienced drone pilot, it's nonetheless an exceptional bot.
Check Price Of Phantom 2 H3 3D On Amazon
What are UAV Drones Used For?
Although photography (recreational or professional) is the main goal of the Dji Phantom 2 series and a popular use for unmanned aerial vehicles, there are a lot of potential uses for these sorts of bots. Amazon, attempting to receive a waiver for laws prohibiting commercial use of pilot free aircraft vehicles, is on its way to establishing a drone with the capability to deliver packages directly to customers (in private locals, according to regulation).
Whether purchasing a Dji Phantom 2, Phantom FC40, beginning toy quadcopter or (for the more experienced) a nano/ mini quadcopter, possibilities are multifarious; UAVs can be used recreationally, professionally, for photography or landscaping. They can be used to help people with landscaping or home improvement, to survey land and areas of architecture or real estate that is not readily accessible.
Although commercial use of drones is subject to a mess of rules and regulations, using Dji Phantom 2 can still be economically practical, since all of the models have great cameras that can be used to create great prints or videos.
Some Info on Dji Drones in General:
Dji is a world leader in camera-based UVAs/ drones. The Dji Phantom 2 line is composed of some of their most popular products, but they are known for all of their products, and chiefly for outstanding quality (which, sometimes, comes with an outstanding price tag!). An example of another high quality model that has boosted their name: the recently released Inspire 1.
While the Dji Phantom 2 Vision and other versions have outstanding cameras and great features, the Inspire's camera is still a cut above. All of Dji's products come with a mobile app, and so does the Inspire – a full featured app with a great layout that helps users view camera parameters, and share and store media. As well, indoor flight is especially easy with the Inspire and its advanced positioning technology.
Dji creates products for everyone, from the first time user to the seasoned expert.
Dji Phantom 2 review: Why Dji Phantom 2?
First you might want to ask: why drones? Well, drones – especially Dji Phantom 2 series, which are considered top of the line quality – are actually quite popular today. For one, a lot of people simply like the idea of having a drone to use recreationally, as they might a very high tech remote control helicopter. Their uses are many, and it's hard to find a better product for panoramas, aerial shots, etc.
Dji Phantom 2, especially H3 3D, have great built in cameras, so they are great for any photographical purpose. As well, they are truly easy; no configuration is required with these drones. Although all aerial panoramas run the possibility of a certain amount of lens distortion, the Phantom 2 series has built in camera distortion prevention and correction.
The Dji series, especially Phantom 2, are technologically very well developed. Although they are pricey they are worth it for high quality videos, pictures, and overall experience. When it comes to good technology, enthusiasts have to be willing to spend a good amount of cash, or else they run the risk of a truly low quality product. So, in the end – especially for professional users – the Dji Phantom 2 series is really worth the money.