The price of a Generac generator can vary depending on the size and model of the generator, as well as any additional features or installation costs. In general, smaller portable generators can range from a few hundred dollars up to a few thousand dollars. In comparison, larger whole-house standby generators can range from several thousand dollars up to tens of thousands of dollars.
Here is a price range for Generac generators:
The Generac GP3500iO portable generator has a price range of around $1000-$1,200, while the Generac 7043 22kW home standby generator typically costs between $5,500-$6,500.
It's important to note that the cost of a Generac generator is just one factor to consider when purchasing a generator. You should also consider factors like the generator's power output, fuel type, and runtime, as well as any necessary installation costs or permits. It's recommended to consult with a professional to determine the right generator for your needs and budget.
Introduction to Generac generators
Generac, a leading company in the energy technology sector, produces smart power systems that provide you with backup when there's a power outage. You can use the generators for industrial use too. 
The company also promises sustainable, clean, and smooth energy. They are all set to revolutionize the 21st-century electrical grid. Thus, Generac is a preferred brand of many homeowners. 
Related: What is an Inverter Generator? Answers & Best Models
How Much Does It Cost To Set A Generac Generator?
If you are worried about the price, we can say that the Generac generator can cost between $2,000 to $7,000. However, you need to bear an extra installation cost of about $3,000 to $5,000. 
The cost of a generator depends on several factors, such as its capacity. For example, a more potent generator, such as the 22 kW Generac generator, may require an installation cost of $1500 to $6300. The total cost of getting a generator for your home may be between $3500 and $15000.
Factors That Affect The Cost Of A Generac Generator 
Though we have provided you with an estimated cost, the cost of your Generac generator will depend upon the following factors:
Size and power output
Your generator's size and power output are critical in deciding your generator's cost. The kW capacity shows how much power it can generate. So, choose the correct size and capacity Generac generator for your home. The bigger the power output, the higher the price.
If you consider small generators, the power output ranges from 7 kW to 10 kW. However, they cannot run the whole electrical circuit in your house during a power outage. You can operate selected appliances. 
The midsized generators can deliver 12 kW to 20 kW power during outages. Though you cannot use them to run the whole house, they can power heaters and air conditioners. Around 2500 square feet of houses can be powered with these generators. 
You can rely on 22 kW to 45 kW generators from Generac to power your house during power cuts. Besides running your centralized air conditioner and other heavy electronic gadgets, you can also use your heating system.
If you choose a 22 kW or above generator, your cost will be comparatively more than the 10 kW generator.
Related: Best Solar Generator For Home Backup – 6 Options for 2023
Identifying your requirements
It can be challenging to know your daily kilowatt usage or how much kW will all your appliances need. Though, figuring it out can be easy if you have a power statement. However, anything that seems easy is not that easy! 
Not all your appliances use the same kW of power – some draw more, some less. You can hire a professional generator installer to know the estimated kW usage daily. It will help you to decide which size generator to buy and prevent you from making wrong and costly investments. 
Once you have the data about how much wattage you will require to run several appliances during power cuts, it will be easy to buy the appropriate Generac generator. 
Related: Best Solar Generator For Off-Grid Living – 5 Picks + Buying Guide
Upgradations, Modifications, and Permits
Though upgrading your electrical subpanel at a time is unnecessary, doing so will enhance your generator's efficiency. The average cost can range from $530 to $1000. Nonetheless, you have to dig a trench to carry on this work. 
You can add tools that might help you once your generator is home. Some of these devices include a wireless monitor or a smart load manager. A wireless monitor helps you check your generator's status while away. It can cost nearly $200 to $400. 
The smart load manager allows you to switch power between different zones and can cost you $150 to $300. Apart from these, a permit can cost you something between $50 to $200. However, the exact cost will depend on local pricing and what you are installing. 
It is also essential to consider your location, as different states and cities have different requirements for generator installation. The last thing you want to do is spend a significant amount of money on a new Generac generator just to learn there are steps you have missed. Generator installation in New Canaan Connecticut, for example, might have completely different permitting and requirements than even a different city in Connecticut. These rules do not only change by state but as stated earlier, by city and town
So, adding all these to your bucket can increase your total cost to install a Generac generator. 
How Long Can You Run A Generac Whole House Generator?
If you wonder how long the Generac generator will run, then you'll have to consider the type of fuel it uses. Besides that, the size of the fuel tank, the consumption rate, and the average generator loads are also responsible for understanding how long the generator will run. 
While portable generators do not have a big fuel tank, permanent generators have one. You can also choose the tank size depending on your requirement. 
For example, consider a 500-gallon propane tank attached to your permanent generator. So, the generator from Generac can use three gallons of propane an hour if the load is 25%. However, the generator might use 5 gallons of propane every hour if the load is 100%. 
So, your generator can run up to 100 hours or more than four days if it uses up to 5 gallons of propane every hour. It can run over a week if the generator draws 3 gallons of propane per hour.
Best Overall Whole House Generac Generator
Now that you know the capacity, cost, installation fees, and other details about the Generac generators, you must know which ones are best. Here are the best overall whole house Generac generators that you can choose from:

Features
Weight: 526 pounds

Max RCF (rpm): 3,600

The capacity of tub size: 22 kW

Voltage: 240 Volts

Style: Standby
Generac 70432 is known for its whole-home coverage feature, convenience, and user-friendly design. The generator has various features, like multilingually monitoring the system through LCD display. 
Besides that, you can check the maintenance interval and battery status anytime. Moreover, if you have a smart home, you need not look at the screen. As you connect the generator to the Wifi and set the mobile link skill with Alexa, you can get updates without even touching anything. 
The generator features a G-force engine and has a corrosion-resistant aluminum build, making it fit for all kinds of weather. It also has a low-level noise emission and is fuel efficient. 
Check the Generac 70432's latest prices on Amazon

Features
Weight: 514 pounds

Max RCF (rpm): 3,600

The capacity of tub size: 24kW

Voltage: 240 Volts

Style: Standby
The 24 kW Generac home generator needs very little space to get installed. It is a heavy punch in a small package. You can fix it anywhere without worrying, as it will not disrupt the order of your home. It takes 70% less space than the other generators. 
Unlike other Generac products, this generator also comes with corrosion resistant aluminum build. Thus it is suitable for all types of weather, including storms. Considering its performance, you will be amazed to see a small machine performing so great. 
The generator is designed such that it requires significantly less maintenance. Besides that, True Power technology ensures the safe operation of electronic items. You can watch your generator via a mobile app or by syncing it with Alexa. 
Check the 24 kW Generac home generator's latest prices on Amazon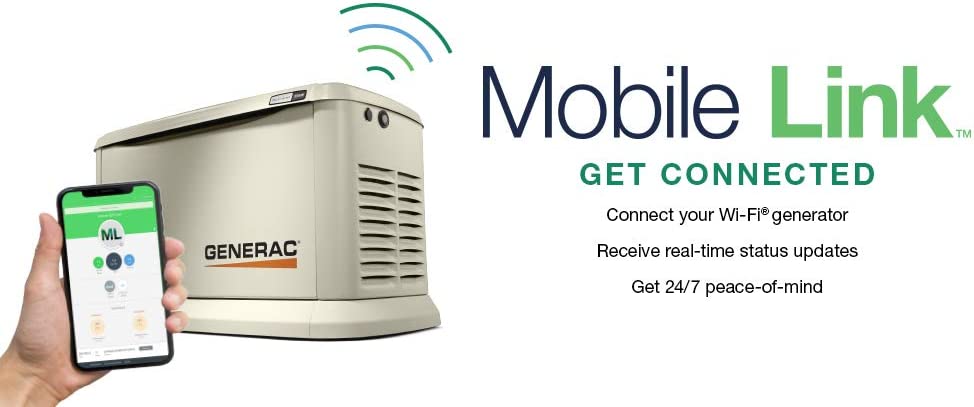 Features
Weight: 338 pounds

Max RCF (rpm): 3,600

The capacity of tub size: 10kW

Voltage: 120 Volts

Style: Standby
If you want a generator at affordable rates, you can go for Generac G0071720 Guardian Home Generator. The machine is designed mainly to serve a whole house's needs. Apart from that, its 16-circuit essential coverage during outages will help you cope with frequent power cuts. 
Unlike other units from Generac, this generator is all-weather resistant. It has an aluminum casing that protects it from everything. Other than that, Generac G0071720 is a perfect fit for those who want hands-free managing.
The G-force engine, the signature engine for all Generac generators, is also included in this unit. The engine allows the smooth functioning of electrical appliances at your home. Beyond that, the generator draws less fuel, ensuring refilling after four to five days. 
Check the Generac G0071720 Guardian Home Generator's latest prices on Amazon
Best Camping, RV & Off The Grid Living Generac Generator
Features
Weight: 109.1 pounds

Max RCF (rpm): 3,600

The capacity of tub size: 3500 Watts

Voltage: 120 Volts

Style: Portable
Generac 7127 is famous for its low noise emission, and you can rest assured that your neighbors won't be disturbed. Besides that, the small unit makes it an easy fit in your power-packed home. Be it small or medium-sized appliances, Generac 7127 can easily handle them during power outages. 
Unlike any other Generac model, this unit can also run multiple items at a time smoothly. The functioning is bold, and the controls are simple. So you don't have to fret about its efficient operation. 
Check the Generac 7127's latest prices on Amazon
How Much Does a Generac Generator Cost FAQs
How much does it cost to set in a whole-house generator?
A whole-house generator is available from $2000. However, you can get bold and efficient models for $5000 to $6000. If you want upscale models, they will cost you above $10000. 
How much does it cost to install a Generac generator?
Generac is a famous brand of generators. You can purchase and install them by paying something between $11000 to $15000. 
What size generator do I need for a 4-bedroom house?
A four-bedroom house can have many appliances depending on the number of people living there. So, it is reasonable to go for a 20 kW to 22 kW
Is it worth installing a whole-house generator?
Yes, it is worth installing. You will benefit from any calamity when the power is off. Every appliance at your home will be functional, even during an outage. 
Are whole house generators safe?
Yes, they are safe. The units are manufactured so that they do not create any damage. Features like auto cool, and auto-off, prevent the engine from overheating and causing any harm. 
Takeaway
By now, you must know how much a Generac generator will cost! You are also aware of the various types, their features, and the factors on which the price depends. So, choose the unit you feel will be best for your house. Try to get your home's exact power usage, so you don't overspend!