Have you ever imagined mowing your lawn without the extra hassle of refueling or dealing with cords? Cordless lawn mowers make it easy to maintain your property while doing less harm to the environment. With so many options, finding the right one for your needs can be challenging. To help you with this, we've prepared this guide on cordless lawn mowers.
Key Takeaways
Cordless mowers offer better work efficiency and convenience.

Battery-powered options are eco-friendly and easy to use.

Top cordless mower brands include Greenworks, Black+Decker, Ego, and Ryobi.

Battery life and cutting width are essential factors when shopping for a cordless lawn mower.

Cordless lawn mowers are a convenient and environmentally friendly solution for lawn maintenance.
The advent of cordless lawn mowers has made maintenance much easier for homeowners. They no longer need to deal with the hassle and expense of gas or the limitations of cords with electric mowers. Battery-powered options offer convenient, efficient, and eco-friendly ways to keep your lawn looking its best.
Comparison of Top Cordless Lawn Mower Brands
There are several top brands in the market regarding cordless lawn mowers. Some popular brands include Greenworks, Black+Decker, Ego, and Snapper.
Top on our list of the best brands for cordless mowers is Greenworks. This large company, with a revenue of over $1.3 billion, was founded in 2007 and had its headquarters in Mooresville, North Carolina. They specialize in high-quality hand, power, and lawn-care tools.
The company is known for being the first to produce battery-powered dual-blade cordless mowers back in 2013. They are also popular for the SmartCut technology's innovation, which improves the cutting efficiency of mowers.
Some of their best sellers include:
Greenworks offers an array of other powerful mowers to meet the demands of any property owner. Not only do they perform well, but they are also eco-friendly and help reduce your carbon footprint.
Black+Decker is a popular company with a rich history of manufacturing powerful and highly efficient lawn mowers. The company was founded in 1910 (113 years ago) in Baltimore, Maryland, and has since been one of the world's largest producers of lawn mowers. Furthermore, they have been producing high-quality mowers for the past 50 years—with a key focus on cordless mowers.
Black+Decker has never bothered to manufacture gas-powered mowers and is praised today for being the pioneers of electric mowers. The price of their lawn mowers currently retails at between $380 – $3,000 on Amazon. The mowers feature advanced rechargeable lithium-ion batteries that are remarkably powerful, eco-friendly, and easy to use.
Ego is also a well-known brand when it comes to cordless mowers. This company, launched in 2012 in the US, has quickly risen to be one of the world's best producers of cordless mowers. They are renowned for their powerful yet efficient performance, thanks to their cutting-edge technology and commitment to high quality.
Some of their top cordless mowers include the Power+ LM2133 and the EGO Power+ ZT4204L 42″. Ego brings together two of the most important aspects of a lawn mower; power and battery runtime. They offer high-quality lithium batteries which can be fully recharged in an hour and offer a runtime of up to 60 minutes. 
Founded in 1951, Snapper has been a major player in the lawn mower industry. Over 70 years of actively producing mowers, they have greatly advanced to become one of the top brands that manufacture cordless mowers.
Their best products include the Snapper XD 82V MAX and the Snapper HD 48VMAX, known for their power and efficiency. Most of their cordless mowers also come with strong rechargeable batteries that give you up to 45 minutes of runtime. The price range for their products is between $225 – $3,700.
Related: 5 Best Electric Zero Turn Mowers – Top Picks For Your Yard
Best Cordless Lawn Mowers – SUMMARY
What to Look for When Choosing the Best Cordless Lawn Mower
With so many cordless lawn mowers, finding the one that fits your requirements takes time. But for people trying to avoid cords and gas cans, a cordless mower is one of the best methods for having an attractive and healthy garden.
Here are a few critical evaluation criteria to consider when shopping for a cordless lawn mower:
When purchasing a cordless lawn mower, battery life should be a key criteria to consider. The capacity of the battery, measured in amp hours (Ah), determines how long the mower can run on a single charge. A higher capacity battery, like 40 Ah, will have a longer running time, around 60-90 minutes.
It's also important to consider the running time of the mower when it's on full power and when it's on lower power. A mower with a high-performance battery with a longer run time on full power, like 45 minutes or more will allow for efficient mowing.
Charging time is also an important factor to consider. A mower with a fast charging time, like 60 minutes, will allow for more mowing hours.
Related: Electric vs Gas Lawn Mower – Which One Is Suitable For you?
This is the width of the blade and its reach to cover an area in just one pass. For small and medium size lawns, it is ideal to use a mower with a cutting width of 14 – 16 inches. Larger lawn sizes require a cutting width of 20 inches or more. 
When choosing a cordless lawn mower, look for features that make it user-friendly such as a comfortable handle, easy controls, and adjustable cutting height. Additionally, check the weight of the mower since a lightweight one will be much easier to push around your lawn.
When shopping for a cordless lawn mower, it's essential to set a budget and stick to it. Although more expensive, as they usually cost between $1000 – $3700, models may offer more features and better battery life. Mid-range options costing between $200 and $600 can still provide excellent performance for your mowing needs.
Brand Reputation and Customer Reviews
Before making a purchase, it's essential to read reviews from other customers to understand the product's performance, battery life, and overall satisfaction. Additionally, it's also worth checking the brand reputation, as some brands may have a better reputation for product quality and customer service.
Related: Best Self-Propelled Lawn Mower – 5 Models For All Budgets And Terrains
Best Models: What are Some of the Best Cordless Lawn Mowers?
Below is a detailed review of the best cordless lawn mowers that will suit your lawn maintenance needs.
Best Overall Cordless Lawn Mower

On the top of our list of the best cordless lawn mowers is the RYOBI RY401120 which is simply unbeatable for its performance and convenience. Besides being a self-propelled mower that greatly makes it easy to use, it has a 20-inch cutting deck. This makes the machine cover a large area quickly and, therefore, convenient for large yards.
The RYOBI RY401120 mower has a 42-minute runtime supported by its 40-Volt 6.0A lithium-ion battery. To improve it, you can add another battery to the machine to make it run even longer without a recharge.
Features
Cutting Width

: 20 inches

Run time

: 42 minutes

Charge time

: 4 hours

Mowing height range

: 1.5-4 inches 

Weight

: 60 pounds 

LED headlights
Pros
Battery efficient

Offers powerful performance

Versatile

Self-propelled

Large cutting deck
Cons
Not suitable for heavy-duty tasks

It's heavy—making it hard to transport.
Check the Ryobi RY401120's latest prices on Amazon.
Best Entry Level Cordless Lawn Mower


If you are looking for the best entry-level lawn mower, then the Makita XML07 is your best bet. This lightweight mower offers a very unique and reliable cutting experience. It comes with four 5.0 Ah lithium-ion batteries with 90 minutes runtime. Furthermore, the battery can be easily removed and interchanged, making the machine very beginner friendly.
In addition, it has a durable steel mowing deck which has been designed well to withstand debris. You also get 10 mowing heights from this machine – making it a good option for beginners. It comes with an ergonomic soft handle which enables you to easily push it.
Features
Cutting Width

: 21 inches

Power Source:

4x 18V batteries 

Mowing Height Adjustments

: 10 -positions 

Ground Speed

: 3.0 – 4.5 mph

Wheels

: 8-inch plastic

Bag Capacity

: 1.5 bushels

Blades

: Single blade (black+decker System)

Operating Weigh

t: 115 lbs
Pros
Better flexibility

Powerful battery

3-in-1 System for better versatility

Many position adjustments
Cons
Check the Makita XML07's latest prices on Amazon.
Best for Small Yard Cordless Lawn Mower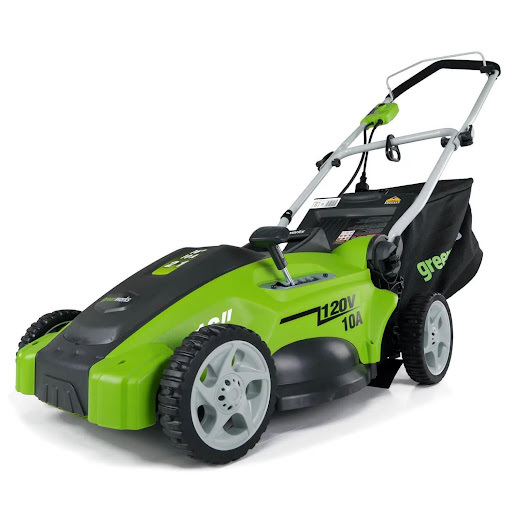 The Greenworks 25142 cordless lawn mower is ideal for homeowners with small yards. The main feature that makes this mower take this category is its cutting width of 14 inches and cutting height of 1.5 – 3.5 inches. These are the perfect cutting specs for mowing a small yard or tight space.
The 25142 also features a 40-volt lithium-ion battery that is powerful enough to keep the machine running for up to 45 minutes. Furthermore, it can be fully recharged in an hour and has low noise levels—making it ideal for use in residential areas. 
Features
Deck Material:

Plastic

Cutting Width

: 14 inches

Mowing Height Range

: 1.5 – 3.5 inches

Mowing Height Adjustments

: 7 positions 

Blades

: Single blade

Battery Capacity

: 40V Lithium-ion
Pros
Cordless and lightweight

Easy to maneuver

Suitable for small lawns

Powerful battery

Folding handle for easy storage
Cons
Not suitable for large lawns

Limited cutting width.
Check Greenworks 25142's latest prices on Amazon.
Best Push Cordless Lawn Mower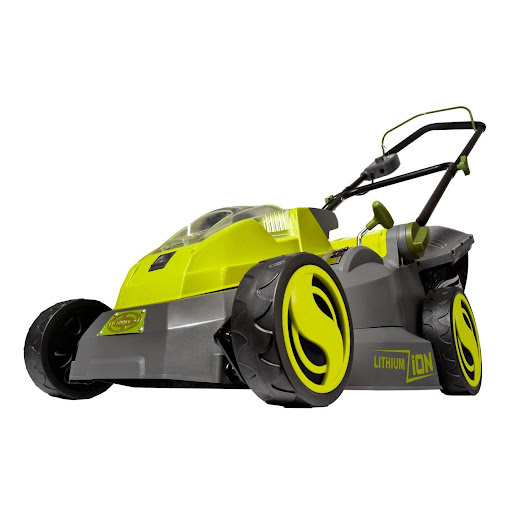 When looking for a great push lawn mower, the first thing you need to consider is the weight and mobility of the machine. The Sun Joe iON16LM combines these features and a host of other beneficial elements that make it rank high among the best cordless push mowers available.
This lightweight machine weighs only 33 pounds—making it easy to push and maneuver. It also has a cutting height of 1.18 – 3.15 inches, making it easy for you to adjust the blades for different grass types. Another important feature of this push mower is its 10.6-gallon grass bag which collects all the clippings as you mow.
It is powered by a 40-volt battery with an amazing runtime of 40 minutes and charge time of 60 minutes which means you get enough power to mow a large area and recharge quickly.
Features
Power source:

40-volt lithium-ion battery

Cutting width:

16 inches

Cutting height:

1.18 inches to 3.15 inches (adjustable)

Grass bag capacity

: 10.6 gallons

Weight:

33 pounds

Dimensions

: 17.5 x 18 x 42.5 inches

Deck material

: Durable plastic

Motor

: brushless
Pros
It is easy to use

It has a powerful battery

6-position height adjustment

Push-button start

Grass catcher bag for easy disposal
Cons
Not self-propelled

Not suitable for large lawns.
Check Sun Joe iON16LM's latest prices on Amazon.
Best Self-Propelled Cordless Lawn Mower

Self-propelled lawn mowers reduce the amount of energy you use to push them around. The EGO-Power-LM2102SP is among the best self-propelled mowers for many reasons. This mower under the EGO Power + category is powered by two 56-volt 4.0Ah batteries and weighs 62.61 pounds.
It is a mower with an automatic operation mode, making it easy to use and maneuver. Furthermore, it has a run time of 60 minutes, meaning it can be used to mow a medium size lawn on a single charge.
The self-propelled feature comes with adjustable speeds for the machine, which ranges between 0.9 – 3.1 MPH. This means you can use higher speed for a larger lawn and lower speed when dealing with tall grass.
Features
Battery Capacity

: 56-volt Lithium-ion battery

Cutting Width:

21-inch cutting deck

Cutting System:

 

3-in-1 function 

Cutting Height:

1.5 – 4 inches 

Variable Self-propel Speed

: 1.3 – 3.1 MPH 
Pros
Powerful mowing performance

Self-propelled

Large cutting deck

3-in-1 cutting system for versatility

Dual-port charger
Cons
It may be heavy for some users

Not suitable for small lawns
Check the EGO LM2102SP's latest prices on Amazon.
Best for Battery Efficiency Cordless Lawn Mower

The Milwaukee M18 Fuel 21-Inch Self-Propelled Lawn Mower is the best, with great battery efficiency. It is equipped with two high-quality Red Lithium batteries with an output of 12Ah. This is enough power to mow long grass efficiently, which may prove difficult for other mowers.
The mower has a high blade rotation speed of between 2800 – 3300 RPM, which is made possible by its powerful batteries. It also features an M18 brushless motor that improves the performance and durability of the machine. Another amazing feature you will find here is the 7-position adjustment levels, which make it easier to mow using the machine.
Features
Power Source

: M18 Fuel brushless motor

Cutting Width

: 21 inches

Cutting Height

: 7-position height adjustment

Self-Propelled

: Yes

Grass Bag Capacity

: Large capacity (up to 2 bushels of grass)

Weight

: 85bls

Variable Speed Adjustment

: 0 – 4 MPH 
Pros
Battery efficient

Offers powerful performance

Versatile

Self-propelled

Large cutting deck
Cons
Not suitable for heavy-duty tasks
Check the Milwaukee M18's latest prices on Milwaukeetool.
Best for Rough Terrains & Hills Cordless Lawn Mower

The Worx WG779 cordless lawn mower is the perfect solution for tackling rough and uneven terrain in your yard. With its powerful 40V battery and durable steel deck, this mower can handle even the toughest grass and weeds with ease.
The innovative IntelliCut technology provides added torque on demand, so you can mow through thick and heavy grass without slowing down. The mower also features a convenient single lever cutting height adjustment and a three-in-one design that allows you to mulch, bag, or discharge clippings with ease.
The ergonomic design and easy-to-use controls make it comfortable to operate for extended periods. This cordless lawn mower is lightweight and easy to maneuver making it perfect for any rough and uneven terrain.
Features
Motor

: 40V Max Lithium-ion

Cutting Width

: 16 inches

Cutting Heights

: 1.5 – 4 inches

Deck Material:

Steel

Weight:

34.5 lbs

Battery Run Time

: Up to 60 minutes

Battery Charging Time:

90 minutes

Intellicut technology for added torque on demand
Pros
Powerful

Durable

 

Self-propelled

Large cutting deck

Suitable for rough terrains and hills
Cons
Check Worx WG779's latest prices on Amazon.
Case Studies: How Homeowners and Landscaping Professionals are Using Cordless Lawn Mowers
Cordless lawn mowers have massively grown in popularity for many reasons. Homeowners and landscaping professionals are increasingly using them for convenience and ease of use. These mowers eliminate the need for a power cord, allowing for greater mobility and flexibility when mowing large yards or landscaped areas.
A case study by Consumer Reports indicates that battery-powered lawn mowers are more environmentally friendly, as they do not produce toxic gases. The report further indicates that cordless mowers reduce electricity significantly and reduce carbon footprint.
Related: Ultimate Review Of Best Corded Electric Lawn Mowers Of 2023
Cordless Lawn Mower Battery Care and Maintenance Tips
To ensure your cordless lawn mower lasts, practicing good battery care and maintenance is essential. Here are a few tips:
Check and replace the battery

: Make sure the battery is fully charged and functioning properly. If it's not holding a charge or is past its lifespan, replace it.

 

Maintain the blades

: Keep your lawn mower's blades sharp and balanced for a precise and neat cut without harming your grass.

 

Check the air filter

: Maintain the air filter clean to ensure proper airflow and engine performance.

Lubricate moving parts

: Keep the wheels and other moving parts lubricated to prevent wear and tear and ensure smooth operation.
Related: Best Electric Riding Lawn Mower – 4 Models from Entry-Level to Professionals
Safety Tips for Cordless Lawn Mower Users
As the owner or user of a cordless lawn mower, always keep these safety tips in mind when using the machine.
Protecting your feet and hands is important when working with a lawn mower. It is essential always to wear closed-toe shoes, goggles, and gloves while operating the appliance.

Before operating a mower on your lawn, it is essential to clear away any sticks, stones, or toys that may be present.

It is essential to ensure that kids and animals are kept as far away from the lawn mower as possible when it is in operation.

Whenever you're not using your mower, make sure to turn it off, as leaving it running while unattended is dangerous.

Ensure to read and abide by the manufacturer's guidelines for operating and maintaining the lawn mower to guarantee its safe use.
Related: What Kind Of Oil Does A Lawn Mower Take?
Best Cordless Lawn Mower FAQs
Which Brand of Cordless Lawn Mower Is Best?
It greatly depends on what you are looking for in a lawn mower and your specific needs. Some popular brands of cordless lawn mowers include EGO, Greenworks, Ryobi, and DeWalt. It is vital to read brand reviews, compare features, and consider the size of your lawn before deciding.
How Do I Choose A Good Cordless Lawn Mower?
When choosing a cordless lawn mower, consider factors such as the size of your lawn, the power and runtime of the battery, the cutting width, and the height adjustment. Consider the weight of the mower, ease of assembly and maintenance, and any additional features it may have.
How Good Are The Ryobi Cordless Lawn Mowers?
Ryobi is a popular brand that offers a wide range of cordless lawn mowers and has received positive customer reviews. They are known for their powerful batteries, user-friendly features, and affordable prices. However, as with any product, it's essential to read reviews and compare different models to find the best fit for your needs.
Related: Why Is My Lawn Mower Smoking? 9 Reasons & Solutions
Enjoy Mowing Using the Best Cordless Lawn Mower
Cordless lawn mowers have become famous for their better usability and convenience. Unlike other mowers, you don't have to worry about having long power cables when maintaining your lawn. All the above models have been explicitly designed to give you the best mowing experience. However, you must be keen to follow all the maintenance and safety tips we have mentioned to increase the machine's longevity.