The Dromida Ominus Quadcopter is a drone available in four color options: red, blue, green, and yellow. It looks a lot like a gigantic cool bug. Even if you're a beginner, it can take rough handling and sketchy flying. It's meant to be trashed, bashed, yet it'll bounce right back for more. This cool Ominus quadcopter is packed full of exciting features that are sure to interest even the most seasoned drone enthusiast.
The Ominus quadcopter can be flown almost right out of the box. Simply charge it up first, and you're ready to go. There's no complicated pilot lessons to learn how to fly the Ominus quadcopter. You'll quickly be able to master piloting this drone. It's built for beginners, so you won't have to worry about trashing a really expensive drone, or even losing it in the shrubs. It's perfect for learning on, and great for the whole family to learn how to pilot a drone too.
Check out some of the cool features of the new Ominus flying drone:
Quick Look at the Dromida Ominus Quadcopter
The touch construction of the Ominus quadcopter can withstand all the crashes and bumps that a beginner may give it.
Stable gyro system will keep your drone on an even keel, even when you're still a bit shaky at the controls.
Do auto flips at the touch of a button, without any complicated piloting skills required first.
The 2.4Ghz radio eliminates any outside radio interference, so you'll always stay in touch with your drone.
RTF — Ready to fly! No need to buy any expensive add-ons, though there is branded merchandise, if you choose to buy.
Batteries are included!
The Secure Link Technology always keeps tabs on your drone, so you don't lose your connection. This enables ultra-precise control of your drone.
Special Features of Ominus Quadcopter
The Dromida Ominus quadcopter has some great features that make it stand out from the competition. It comes fully assembled in the box, so you won't have to fiddle to get it installed. It's also pre-programmed in factory, so you won't have to mess around with the settings. The Dromida Ominus quadcopter is made with a tough plastic frame, so it can withstand crashes and rough handling on the field, whether intentional, or not. Its extreme durability is tough enough to survive routine crashes.
Its flight capabilities can be handled with ease, whether in flying assistance mode, or expert. It is stable enough to be flown outdoors, but can also be flown indoors as well. If you wish to turn off flight assistance, it only takes one flip of a button.
The Ominus quadcopter comes pre-programmed with four different flight modes: beginner, normal, advanced, and expert. They enable you to add or remove flight assistance mode, and to customize your flight plan.
You'll be able to fly your drone for a longer drone flight time, usually between twelve and fifteen minutes. The optimized 700mAh 3.7 volt LiPo Dromida Ominus battery allows for a twelve to fifteen minute flight on one charge. The included USB charger works fast, so you can quickly get your Dromida Ominus quadcopter charged up again. If you need an Ominus battery upgrade, you can purchase additional battery packs to extend the life of your quad on the play field.
The auto-flip button can be flicked to do a pro-style flip quickly. Of course it's still possible to do flips manually in expert mode.
The vibrant and colorful LED lights will enable you to see your drone from a distance, and at night time. A low light LED battery indicator will let you know when your drone's battery is running low, so you can return it safely to home.
Four cool and sleek trim design colors will increase the fun of your hobby.
An advanced stabilization system with three-axis gyros and three-axis accelerometers will help control your pitch, yaw, and roll of your drone, and compensate accordingly. Your drone will remain stable in the air.
One of the funnest aspects of the Dromida Ominus quadcopter is that it can be roughly handled, yet the plastic materials it's made from will bounce back into shape. It'll get up off the ground, even after a rough landing. Don't be afraid to run it, as it can take your learning curve. This quad will be hard to break.
While it may be designed for beginners, the intermediate drone pilot will find a lot to interest them as well. Advanced mode will allow you to take control of the quad, yet still have a bit of help from the gyro technology to keep it stable and in the air. You'll be able to practice your own stunts, without having to rely completely on the beginner's mode.
There is also plenty to interest the expert. The Dromida Ominus quadcopter is bright and bold. You can turn off the flight assistance mode and revel in the fun of having it completely under your control.
Despite its sturdiness, it'll still fly smoothly and accurately for you. The gyro stabilization will keep it flying smoothly through the air.
The Dromida Ominus quadcopter has four different flight modes, so you can choose the level you're on. It's built with high-powered motors, and has intense LEDs, so you can see it at a distance, or at night time.
Even original Ominus owners may wish to buy this new Ominus. It's not compatible with the original radio controller, or vice versa. The 2.4GHz SLT -TM radio system is built with secure link technology, digital trims, and allows for selectable flight modes. There is an auto flip switch, and superior interference free flight.
Differences between the Dromida Ominus and the Dromida Ominus FPV
The main difference between the two models is that one comes with a camera in the box, and one doesn't, as well as a smart-phone attachment for live inflight viewing. Expect to pay about $200 for the camera included. The camera is a WiFi-enabled digital FPV — First Person View camera.
You'll be pleased with the resolution of Ominus camera: It is 1280 by 720!
Full color video and photographs will be crisp and clear, in high definition resolution.
If you wish to try high-energy aerobatics, the additional weight of the camera may affect your flight. The camera attaches and removes with double sided tape, so you can add or remove at your whim. It will deliver high quality images to your smart phone at a distance of 100 meters.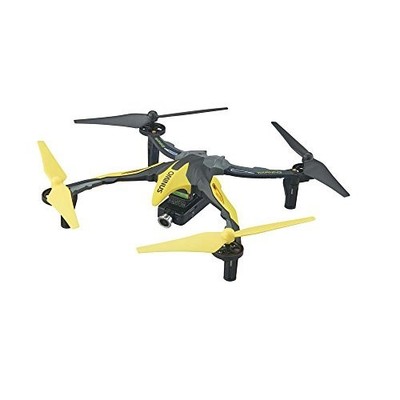 Unlike many other cameras that come with quads, this one actually has a micro memory card and card reader included for onboard storage. You can also watch video live, or download data directly to your smartphone or other mobile viewing device.
To enable viewing of live streaming video, there is a smart phone attachment that connects directly to the radio controller. There is a sunshade hood that surrounds it, so you can view video even in direct sunlight. This is also removable, in case you don't need it. The smart phone is held in an optimal viewing angle, and is adjustable to your needs.
The holder enables you to continue flying your Ominus drone, without having to struggle to hold the smart phone at the same time. With the smart phone attachment, you can better guide your quad, so you can obtain the best video possible, of the surrounding area.
The video camera on the Ominus FPV makes flying drones double the fun.
How to Fly the Ominus Quadcopter
It's easy to get the hang of flying the Ominus drone, but it's even quicker to learn once you have an understanding of how the radio controller works.
The Dromida Ominus quadcopter comes straight out of the box. Before starting your first flight, it's best to download the main instruction manual from the website. Before you can get going, insert your batteries into the radio controller unit, and get your drone charged up. Plug the charger into the USB port. You may also use an AC adaptor, but that's an additional cost. To tell if the LED charger is charging up, you'll see that the LED light is steady. When the drone is fully charged up, you'll see that the LED light flashing. Be sure to stay in attendance when it's being charged up, and to disconnect immediately, once charging is done, and unplug from the wall.
Your flight mode F-mode button is on the top right of the radio controller. To change the control sensitivity, you will push down on the right stick and release. You'll notice that there are audible high and low tones.
To start up your flying drone, you'll first turn on the radio controller, with your left throttle in the lowest position. Next, you'll connect the battery to the Ominus, while on a level surface. You'll notice that the LED on the drone will flash rapidly, as soon as the quad is linked to the radio. This means that it's ready to fly.
When flying your drone, you can fly it forwards and backwards, or side to side. To fly forwards or backwards, you'll move your right throttle forwards or backwards. To fly from side to side, you'll move the right throttle to left or right.
To turn your drone left or right, you'll move your left throttle right or left. To fly up or down, you'll use your left throttle up or down.
Flips are super easy in flight assistance mode. First you'll push the flip button on the top left of the radio controller. You can then move your right stick in any direction, and your drone will flip over.
When the LEDs light on the Ominus Dromida quadcopter, it means the battery charge is getting low. At this point you need to return your drone to home, otherwise you risk the chance it may fall out of the air and get lost. Be sure to recharge the battery before storing it, so that next time you want to fly it'll be ready to fly, and you can avoid disappointment.
There are some common difficulties when flying your drone, and most of the time they indicate user-error, rather than any malfunction on the part of the drone.
If the quadcopter is not responding to the radio controller, it usually means that the battery on the quadcopter is getting low. Now is the time to recharge it.
If the red LED light on the controller is flashing after you have linked it with the drone, it means that the radio controller's AAA batteries need replacing.
If your drone is unable to flip, it means that the battery is getting low.
If the gyro doesn't appear to be working correctly, it can also indicate the battery charge is low.
If your drone won't take off, it usually means the blades were incorrectly installed, possibly front to back, or back to front. Remove and install properly.
If your quadcopter is shaking, it may mean that the canopy, chassis, motors, or rotor blades are cracked or broken.
Once you've been flying your drone for several minutes, you may notice that it may occasionally drift on you. For the finicky, they'll want to learn how to correct drift. And it's simpler than you think.
It's perfectly normal for the Ominus quadcopter to drift through the air depending on wind currents. Don't worry, you're not doing anything wrong. But if it does seem to be consistently drifting in one direction, it's possible to correct.
You'll notice at the bottom on your radio controller there are two trim buttons, one on each side. To correct drift, press the button that is in the opposite direction of where your drone is drifting.
For example, if your drone is drifting to the left, press your trim button on the bottom right of the radio controller. You may need to press the button more than once to eliminate this drift. Keep on pressing until the drone has steadied and resumed course.
There are also two trim buttons located around the middle, and just under the screen. If you find that your drone is drifting forwards or backwards, press the button. It it's drifting forwards, press the reverse trim button, and vice versa.
Ominus Quadcopter: Radio System and Electronics of the Ominus Drone
The radio control system is made with a black plastic, and is designed to be held easily in the hand. The antenna is located at the top front of the unit, and is protected with plastic, to be sturdy and durable.
There is a small full color LCD menu screen to help you to choose your options and settings. The radio controller is built with the traditional style of one throttle, or rudder sticks on the left, and on the right an aileron elevator stick. There is an on/off switch on the bottom middle, and one rudder trim switch bottom left, and aileron trim switch on the right.
There is an F mode button on the top right, and a flip button on the top left. Two LED light indicators for battery LED and F-mode LED are located directly under the screen.
The Q100 2.4GHz radio was built for this model alone. It gives all the functionality you need within one compact unit. The dual rates, and full trims will enable you to fly your Ominus drone with ease. You can easily customize your flights with the Ominus quadcopter and the LEDs will let you see what flight modes are active.
The radio is interference-free, with its 2.4GHz SLT-TM system. You'll be able to fly your drone with others on the field, without it ever getting confused, or losing your signal with the drone.
The drone itself runs on rechargeable 700mAh 1S LiPo batteries. There is a USB charger that enables for fast charging. The battery plugs directly into the USB charger. Once your drone is charged up, you should be able to fly your drone between twelve and fifteen minutes, without needing to charge it back up again.
Ominus Quadcopter: Detailed Specifications
In the box you'll find one fully assembled Ominus quadcopter, the 2.4GHz SLT-TM radio control system, rechargeable LiPo batteries for the drone, a USB charger, AAA batteries for the radio controller, and an extra set of four blades in case your Ominus's blades get wrecked.
Dromida Ominus (FPV) Unmanned Aerial Vehicle UAV Quadcopter RTF Yellow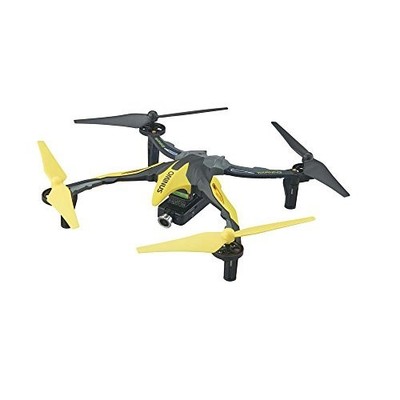 Price History
Statistics
| | | |
| --- | --- | --- |
| Current Price | $29.99 | March 15, 2023 |
| Highest Price | $29.99 | November 23, 2021 |
| Lowest Price | $29.99 | November 23, 2021 |
Since November 23, 2021
The length of the Ominus quadcopter is 238 millimeters, or 9.4 inches. It's weight is 101 grams, or 3.6 ounces. You do not need to purchase anything extra to get this working out of the box.
The regular Dromida Ominus does not come with a camera, but if you're looking for a Dromida Ominus camera, the Ominus FPV model is the one for you.
Cool Add-on Accessories for the Ominus Drone
There is branded merchandise that you can wear while flying your Dromida Ominus quadcopter outdoors, such as the orange Dromida t-shirt. This shirt is available in Medium, Large, and Extra Large.
There are four replacement blades included in the box, but more can be purchased if required. These are usually the first things to become damaged on the drone. They are easy to replace.
When replacing your blades, ensure that the two front blades are green colored, as they have the color LED lights. The two black blades go on the rear, and they have the white LED lights.
Exceptional Customer Support for the Ominus Quadcopter
If you're considering buying the Dromida Ominus quadcopter, check out the many photos online. These will give you a great view of your next purchase. There are also videos of the drone in action, and instructional videos that can help you to get in the air, stay in the air, and perform cool tricks.
There are many instructions and manuals online, including the main guide, a quick start guide, and a fact sheet. There are also many PDF downloads on the website, of both past and new drone releases. If you need help setting up the app, there's one for that too.
If you need further service and support, there is the technical support page, to help you with any troubling issues. You can find listings of dealers and distributors in your region. There is also an email address to send comments to, and telephone numbers where you can call for support during their business hours.
If you require repair services, visit their hobby services page. If you're still deciding whether to buy the Ominus quadcopter, check out their reviews page, to see what other people say about this drone.
Ominus Quadcopter: the Price
The price point of under $80 makes it the perfect choice for a gift, or even to appease all the kids with more than one. For another $120, you can buy the model that has a built-in FPV camera.
Check out this propositions at Amazon, if you are planning to buy Ominus Quadcopter:
Dromida Ominus UAV Quadcopter RTF (without camera)
Dromida Ominus FPV UAV Quadcopter RTF
The Dromida Ominus quadcopter is the perfect drone for the beginner. Often a more expensive drone purchase may thwart someone whose interested in the hobby, as they're worried that they may damage or lose their quadcopter. But the Ominus quadcopter is not only easy to fly, it is also perfect for beginners and kids. You can learn on this drone, and once you're confident and have mastered the expert mode, you can try more expensive drone models.
Fortunately, there is still plenty to interest the intermediate or pro drone flyer as well, particularly since the flight assistance can be completely turned off, for complete control.
The Dromida Ominus quadcopter has enabled anyone to become a master at quad flying, without requiring a lot of long complicated drone flight school classes first.
Try the Ominus quadcopter for yourself, to see just how much fun it is to fly a drone in the air, without having to treat it with kid's gloves.