A quadcopter is one type of flying drone, and is used for a variety of leisure or commercial activities. Flying a quadcopter or drones were originally made by the US military for a variety of spying, defensive, and attack tactics. We've heard them being using during the Iraq and Afghanistan wars.
Drone warfare has proven to be useful, due to minimizing the loss of life, as their GPS systems can aim bombs towards weapon depots, fuel, and supplies of the enemy, rather than residential regions.
Flying drone toys are increasingly becoming popular, and are more than just backyard toys today. Anyone with $50 to $500 to spend can buy a flying drone that can be flown out to fifty meters or more.
Drones can be equipped with cameras that can take photographs and record video. Both the hobbyist and the commercial photographer can use the same types of drones.
Flying drones are used for many commercial activities in the USA. Motion picture film companies use them to capture footage they'd never get with a traditional video camera. Real estate agents and photographers can capture video and images to sell products and services online. They can be used to film weddings, and other endless possibilities.
There's been some concern that criminals or gangs may eventually start using flying drones in their activities. Like cyber crime, it's eventually going to be an entirely new specialty for police and military to focus on.
Quadcopters and flying drones are equipped with sensors and controls, as well as cameras, and they can be extremely delicate equipment to use. It's important to learn how to fly a quadcopter properly. So many situations can go wrong.
The quadcopter may crash into trees or buildings, or the ground. It can run out of power over a lake, and fall in. It can be lost in the air, flying out of range of the controller unit. Some flying drones can be repaired, but if you drown your toy, most likely you'll end up with an expensive display model that you can't fly.
You'll want to ensure that you're protecting your investment in your flying drone hobby.
It's important that a newcomer to the flying drone hobby learns the basics of aerodynamics, and learn how to fly a quadcopter properly. The more you learn, the less chance that a bad accident is going to happen to your expensive toy.
You may wish to start out buying a model under $100, then as you go pro, you can purchase one of the more expensive $500 models that includes a high definition video camera.
Are There Laws Governing Flying Drones in Canada or US?
Flying drone technology has moved faster than the laws governing these toys, whether used for fun, or for commercial purposes. Both the Canada and the USA are considering drafting up laws, as more problems are occurring with them.
Right now flying drones are not allowed to be flown in commercial or military air space. In Canada, flying drones are not allowed to be flown in national parks, much to the surprise of many vacationing families. At the moment, most violators are simply issued a warning, while people adapt to new laws.
If you read the newspapers, many are concerned about privacy, and flying drones. Since flying drones can take photographs, and record video, flying them past homes and windows can present certain issues. It may not be someone's intention to spy on homeowners or businesses.
A real estate developer may merely be recording photos and video to place property for sale on their website, or whatever supposedly valid reason they may have.
Quadcopters may be fitted with infrared cameras that can record in the dark, which makes it even more of a concern as to when and where they are used. Copyright, and trademark laws may also affect the usage of a quadcopter or camera drone. The risk of injury or damage to property may be other issues to consider.
Within the next year or so it's expected that there are going to be stricter laws on where you can fly a quadcopter. The police and military will likely be granted reasonable use access.
For the rest of us who merely fly our quadcopters for fun, the local park or flatland is still going to be the legal and easiest place to fly our machines. If in doubt, ask someone in a flying drone club, as they'll know the best spots for flying.
Flying a quadcopter – Quick Tips
If you're new to the flying drone hobby, be sure to carefully un-package your flying drone and read all the instructions first. Some assembly may be required. Learn about each part of your quadcopter and how the master controller works. If you've never flown before it's best to head outdoors with someone who has.
This is pertinent to whether you're using your flying drone for a commercial business, or just for fun. They can help teach you the ropes. There are even flying drone clubs where you can get together in a group and practice together.
Never hand a controller to a child who has never flow before. Be sure that you understand the intricacies of flying, before teaching younger children.
Control Nuances of Five Quadcopter Models:
How to Fly the Syma X1 4 Channel 2.4G RC Quad Copter – Spacecraft
The Syma X1 2.5G is an affordable quadcopter, and is perfect for learning, as it's quite durable if you accidentally crash it. This quadcopter does not work well in wind, so it's best to ground it if the wind picks up.
It has a 3 way precision controller that allows you to move the drone up or down, left, and right, and backward and forward. There are two modes, one for indoor, one for outdoor. It allows you to flip it for a 360 degree eversion.
The Syma has a three axis flight control system and with adjustable gyro sensitivity that permits stable flight, even when you are just learning to fly. This stability allows you to execute flips, rolls, and other skills. The controller is 2.4GHz.
Check Price Of Syma X1 On Amazon
This newer technology allows for quicker response between the controller and your drone. You can control your drone for longer flying distances up to forty meters, with less interference from other electronics. Lower power consumption will enable a longer flying time.
The battery is easily switched out for another one, so you can fly for a longer length of time. Just remember to charge up all batteries before leaving home. Flying time on each battery is five to six minutes.
How to Fly the Galaxy Visitor 3
The Galaxy Visitor 3 is a quadcopter with white plastic finish and black highlights, and is priced around $150, but is still great for the beginner. One of the best features of this quadcopter is the auto-return.
If you're losing sight of your drone you can simply press the button, and it'll return to you. This is also handy when you tire of flying your drone, and need to go home. No need to manually steer it back to you.
Control distance of this quadcopter is from 100 to 200 meters, so you can get some serious flying in. This quadcopter allows you to choose from conventional control mode or intelligent control mode. There are also three throttle channels: entry level, normal, and altitude hold.
The Galaxy has a nine axis gyro sensor. Flying time is 15 to 20 minutes, but you'll want to ensure that you have enough power before taking your quadcopter out for the full distance. If you're just beginning to learn, the headless flying under the intelligent control mode will make it easier to learn how to fly a quadcopter. The accelerometer can be switched on and off.
If you're flying at night, colorful LED lights will enable you to see where your quadcopter is flying off.
How to Fly the Hubsan X4
You can learn to fly Hubsan X4 without spending a lot of cash. It may not be for the person who's an experienced flyer, but it's great for taking dents and dings as you fly it around. It's around $40, with black finish, and white and black blades.
You can pop it out of its box and it'll be ready to fly. You can level up one step and buy with a camera. This quadcopter comes in a one piece unit. It has a six axis precision gyro, which can be adjusted. You may wish to buy the optional crash pack, which includes additional parts in case you bang up the propellers on this one too much.
The Hubsan X4 has a four channel 2.4Ghz controller. There is no lag time between the controller and the Hubsan X4, which cuts back on frustration. The unit includes a LiPo battery, which is charged via an included USB charger. Be sure to buy additional batteries and charge them up in advance. You'll want to have plenty of them on hand, as you learn how to fly your Hubsan X4.
How to Fly the Syma X5C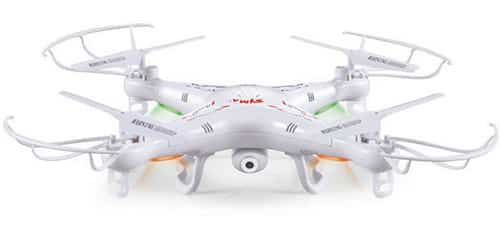 The Syma X5C is a higher end model than the Syma X1 4, but still affordable. Learning to fly the Syma X5C is a fun and rewarding experience. The modular design promises easier assembly, and maintenance.
It has an included camera, so you not only get to learn how to fly a drone, but also how to take great pictures and video. With the Syma you can execute a continuous 360 degree roll, great for filming. The six access gyroscope will allow for precision hovering in the sky. This quadcopter promises extremely fast reaction time from controller to quadcopter.
Various control options allow you to steer your drone up and down, backward and forward, left and right. Its controller is protected against interference, so that it'll respond when you want it to, preventing the loss of your flying drone.
If you live in a windy zone, this quadcopter will work well outdoors in windy climates. Its internal gyro stabilization system will ensure it stays in the air. You can control flying distances for up to thirty meters. This drone can be charged by an included USB cable in the box, which will also allow you to connect it to the computer for uploading of photographs and video.
How to Fly the Parrot Bebop Drone with Camera
Photo by Ted Eytan / CC BY-SA 2.0
Parrot manufactures some of the higher end models of camera drones, but you won't be disappointed by the camera quality of this unit when you decide to learn how to fly Bebop drone. These drones are used by filmmakers and commercial photographers. Parrot Bebop drones are also available in red, blue, and yellow.
There are indoor hulls so you can fly your drone indoors as well. This drone actually has the camera built-in, so you don't need to attach it underneath the frame. It's runs at about $500 and up. It's made with a durable but featherweight design, making it easier to fly. It will record photos and video with a 180 degree field.
The built-in GPS will allow for automatic return to home with the flick of a switch. High altitude flight control will let you fly your drone until it's just a speck in the sky.
The Parrot Bebop drone can be controlled via a smart phone app for the Android, iPhone, and tablets running Windows 8.1. From your app you'll be able to control all the basic functionalities of flying. You'll also be able to control clicking photographs and whether to turn your video on or off.
So… How to fly a quadcopter? Each flying drone model or brand may be different to fly. Don't expect to take a new quadcopter out of the box and be able to fly it immediately. There's going to be a learning curve even if you're an experienced drone flyer. Read all the instructions first, and have an experienced drone pilot give you a hand if you have any questions.
Last Updated On