With advancements in technology, not just lawn mowers but their electric motors have also seen upgrades, and thus, brushless lawn mowers are now becoming quite common.
Lawn mowers powered by brushless technology automatically adapt to the power required by the blades to be more battery-efficient, powerful, quieter, and less maintenance hungry.
Thus, switching to a brushless lawn mower is the wisest decision. Continue reading to learn more about this mower type, including how the technology actually works. So, let's start without further ado.
Key Takeaways:
A brushless lawn mower's motor includes a permanent magnet that rotates at its center and a coil that surrounds this magnet.
A brushless motor works more efficiently by using a combination of external wiring and a sensor to deliver appropriate electricity to the coils.
Adaptability to power needs, quieter operation, and adequate battery usage are some best advantages of a brushless lawn mower.
If you're looking for the best brushless lawn mower brand, EGO, RYOBI, DeWALT, Greenworks, and Toro are some options.
How Brushless Motor Technology Works
Before we go into the features, capabilities, and maintenance requirements of brushless mowers, let's first understand the working principle of brushless motor technology.
Like any brushed motor, brushless motors are made of 2 main components – a permanent magnet that rotates at its center and a coil that surrounds this magnet. But instead of the coil rotating inside the magnet of brushed motors for power generation, a brushless motor uses a system of external wiring and a sensor for the same.
This configuration doesn't lead to mechanical friction or heat and noise production.
Related:
Related: Zero Turn vs Riding Mower – Choose the Right Mower for Your Yard
Features & Capabilities Of Brushless Lawn Mowers
Below are some cool features & capabilities of brushless lawn mowers.
Thanks to no brushes inside the motor that are the primary source of unwanted noise, a brushless lawn mower means a quiet operation. Thus, be it early morning or evening, mow your lawn without worrying about disturbing anyone around you.
Since there's no friction inside the motor due to the brushless design, brushless mowers operate more efficiently than brushed ones. In numbers, they are 80%-90% more efficient than brushed mowers, with a 60%-75% efficiency.
Related: Where Is the Carburetor on a Lawn Mower – Here's the Answer
Extremely Low Maintenance Cost
Electric lawn mowers, if we ignore the motor for a moment, require less maintenance and, when coupled with brushless motors, the overall maintenance cost goes down further. This is because there are no pesky maintenance-hungry brushes to take care of.
Not Much Risk Of Overheating
There's not much risk of overheating in brushless lawn mowers as the coils sit on the outer edge of the motor, enabling an instant cool down.
Another benefit of the coil sitting on the outer edge of the motor is that it lets the permanent magnet wrap more wire and elongate the coil size. As a result, the mower produces more torque and power.
So, these were some advantages of brushless lawn mowers.
Related: 5 Best Electric Zero Turn Mowers – Top Picks For Your Yard
Maintenance Of Brushless Lawn Mowers
The proper functioning of brushless lawn mowers depends on how well you maintain them, especially the brushless motor inside. For starters, below are some non-negotiable maintenance requirements of every brushless lawn mower.
Inspect the motor for corrosion, dirt buildup, burnt odor, etc. If you find any of these, immediately act to preserve the motor's efficiency.
Frequently lubricate the moving parts of the brushless motor, especially the bearings. Besides, the 4 wheels must also be properly lubricated with a high-grade lubricant, for example, WD-40.
Examine the bolts and fasteners of your lawn mower and tighten them, if required.
Clear the undercarriage of your mower from grass clippings, mud, and other objects that may interfere with the blade's functioning.
Note: For more maintenance tips for your brushless lawn mower, I recommend checking out your user manual.
Related: Why Is My Lawn Mower Turning Over But Not Starting? Reasons & Solutions
Brushless Lawn Mowers Vs. Traditional Lawn Mowers
Now that you know what a brushless lawn mower is, its main working principle, advantages, and maintenance, let's quickly understand how it fares against traditional lawn mowers on various parameters.
| | | |
| --- | --- | --- |
| Parameters | Brushless Lawn Mowers | Traditional Lawn Mowers |
| Cost | Quite expensive due to the advanced motor technology | Less expensive |
| Maintenance | Less maintenance | More maintenance |
| Heat & Noise Production | Less noise | More noise |
| Efficiency | 80%-90% | 60%-75% |
| Battery Life | More battery life | Less battery life |
| Power (In RPMs) | Around 1,00,000 RPMs | Around 20,000 RPMs |
| Motor's Life | Long | Short |
So, as the picture is almost clear, a brushless lawn mower is a better bet over the traditional mower in most aspects, except for the price. But less maintenance of the mower heavily compensates for the same. Doesn't it?
Related: Electric vs Gas Lawn Mower – Which One Is Suitable For You?
5 Top Brands Of Brushless Lawn Mowers In The Market
Here are the top 5 brands of brushless lawn mowers in the market.
Optimow Robotic Lawn Mower
Known for its wide range of brushless lawn mowers, Greenworks should be on your wishlist if you're looking for a fully-automated lawn mower. For example, check out its Optimow. In addition, you can also choose the brand's GD48LM46SP and GD60LM51SP for small and large lawns, respectively.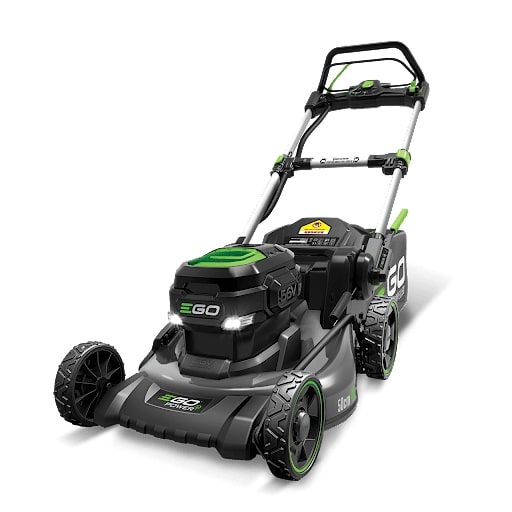 LM2024E-SP 50 CM Self-Propelled Mower
The next brand that has embraced the brushless mower technology is EGO. With a proper blend of ease of use, power, and battery life, the brand caters mostly to large lawns with its electric mowers. One of its top-rated models is the LM2024E-SP. It's a self-propelled lawn mower, powered by a high-voltage battery, and comes with a supercharger.
18V ONE+ HP™ Brushless 37 CM Lawn Mower
If EGO lawn mowers don't fit into your budget, RYOBI is the best alternative you can rely on. Three of my favorite brushless mowers are RY18LMX40A, RY18LMX37A, and R18XLMW24. These are designed to tackle every mowing challenge and deliver the best experience in all conditions and on all terrains, flat or hilly.
Note: Check out this ultimate review of the RYOBI 18V ONE+ HPTM Brushless 37cm Lawn Mower (R18XLMW24).
Kobalt 80V Max 21″ Self-propelled Cordless Lawn Mower
For homeowners, in general, Kobalt is a must-try brand. This is because you get the best-in-class runtime in all its products, thanks to the highly efficient brushless motors. Among its rich collection, you should check out KMP 5040 and KMP 6080. While the latter gives a runtime of 80 minutes, it's 30-40 minutes for the former.
Toro 21″ 60V MAX* Electric Battery SMARTSTOW® High Wheel Push Mower
Last but not least, let's get to know Toro. Founded in 1914, the brand's main competitor is RYOBI, which is why its electric mowers are expensive, more powerful, and heavy. If you're looking for a mower for your large yard with thick and long grass, Toro is the brand to choose from. The MAX SMARTSTOW 20367 is my recommendation.
Related: Best Self-Propelled Lawn Mower – 5 Models For All Budgets And Terrains
What Is A Brushless Lawn Mower FAQs
Is A Brushless Mower Better?
Yes, a brushless mower is better.
What Does It Mean For A Mower To Be Brushless?
A mower is brushless if its motor is free from friction-causing brushes and contains magnets that eliminate friction.
What Is The Difference Between A Brushless And Brushed Motor Trimmer?
A brushless motor contains friction-removing magnets, while a brushed motor works using friction-causing brushes.
What Is The Advantage Of A Brushless Lawn Mower?
A brushless lawn mower is quieter, battery efficient, less prone to overheating, adaptable to power use, etc.
Related: Ultimate Review of Best Robot Lawn Mowers Of 2023
Conclusion
Here you go. That's everything you should know about a brushless lawn mower, its capabilities, maintenance requirements, top brands, and most importantly, the brushless motor technology. Investing in a brushless lawn mower means faster mowing time, quieter operation, efficient battery use, increased power, etc.
If you want my recommendation for the best brushless lawn mower, it's undoubtedly the RYOBI 40V Brushless 20″ Cordless Battery Walk Behind Push Lawn Mower. It's CARB-compliant, lightweight, and suitable for up to ½ acre yards.
So, what are your thoughts about brushless lawn mowers? Are they worth it? Let me know in the comments below.