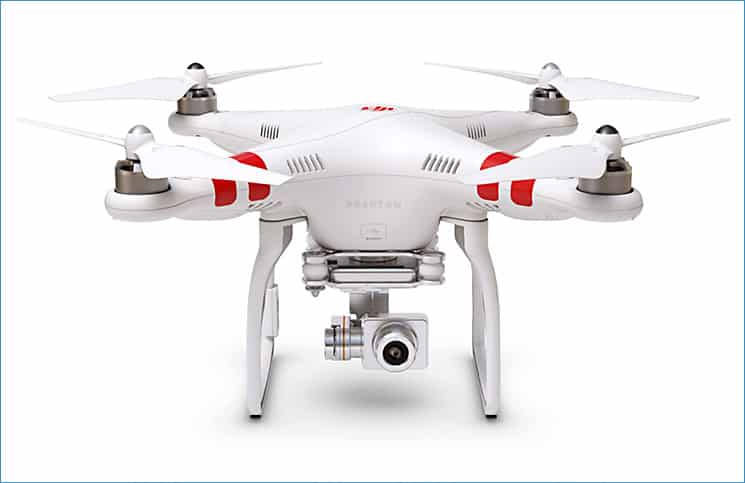 DJI Phantom 2 vision plus is the latest UAV on the block which is here to swamp the market of unmanned aerial birds in the league. The DJI Phantom 2 vision plus accessories which accompany the blockbuster model are almost the same as in the previous DJI Phantom.
DJI Phantom 2 vision plus accessories that are suggested to be bought along with the quadcopter are an extra battery and additional pair of propellers. DJI Phantom 2 vision plus accessories though mostly are quiet self sufficient, but the above two are recommended for enhanced flight time and fun.
DJI Phantom 2 Vision plus
This latest DJI in the series of Phantom's is the vision + which comes with an amazing camera and its truly mesmerising quality of aerial photography. The previous version of DJI phantom 2 vision, and its features have been completely surpassed by this DJI Phantom 2 vision plus. Although the flight time remains same at 25 minutes, other features have been enhanced and truly justify its plus status.
Features of DJI Phantom 2 Vision plus
The biggest feature is the 3 axis camera stabilization gimbal with 0 – 90 degree of pitch control range has been newly introduced in this model and it provides a better axis to the camera along with more stability. Therefore pictures are more stable and better positioned.
The additional feature in the camera which is new in this DJI Phantom 2 series is that, it comes with a camera tilt control which allows better viewing and helps in capturing the images in required angle.
DJI Phantom 2 vision plus comes with better remote control features.

There is a gimbal control dial, a trainer port and a throttle lock which are newly added in this series. This enhances the capability and gives better maneuverability capability to the remote control. This RC is compatible with other DJI Phantom 2 also and comes with a smartphone holder also which shows the real time view of the on board camera.
There is a flight radar which shows the present position of the quadcopter in comparison to the home base and has a maximum control range, which when reached the helicopter automatically starts returning to the flyer. The return flight is carried out completely on its own, including the safe landing of the quadcopter.
The DJI Phantom 2 vision plus has a Wi-Fi range of 700m from the remote control. In this range, the smartphone attached can access the pictures clicked by the camera that too in real time.
A new anti static compass has been added to this Phantom which comes with a protective shell and takes care of the compass from the on flight eventualities.
The motor, propeller and ESC are designed with enhanced features which give better thrust and control for improved power of the flight.
DJI Phantom 2 vision plus accessories
There are three versions of DJI Phantom 2 vision + which are available in the market. The base model comes only with quadcopter and its basic accessories. Then there is an advanced package called basic bundle which comes with an additional battery which is compatible with DJI Phantom 2 and Phantom 2 vision.
There is a 9 inch prop guard, which can be used to protect the propellers during flight obstacles or harsh landings. Then there is a deluxe bundle which, along with the above accessories has a black crush and weather proof case for keeping the main base quadcopter model during off flight.
The basic DJI Phantom 2 vision + accessories which come in the box are:
The base quadcopter.
Integrated gimbal camera with a cover.
A 4 GB micro SD card.
One battery.
Remote controller and along with a smartphone holder attached and Wi-Fi extender.
8 pairs of propellers. 4 are white in colour and 4 grey.
The charger along with the power and USB cables.
An anti drop kit.
Spare dampers.
Some DJI stickers and manual
This DJI Phantom is ready to fly as soon as it is out of the box and even the camera is ready to shoot and click those amazing stills and videos. Apart from the DJI Phantom 2 vision + accessories, in the base model, it is recommended to have at least one spare battery.

Although the flight time is 25 min but once you start enjoying flying this amazing quadcopter you will feel eager to have some more.
So equip yourself before moving out for a flying session.
This new model of DJI Phantom has revolutionary features and taken the drone industry by a storm. Its camera with world class clarity and an improved stability, is the most important specification.
The camera shoots incredible pictures and videos at 1080p/30fps and 720p/60fps which provides clarity to the video.

The camera also comes with an option of clicking slow motion shots for a surreal experience. With a megapixel of 14 on figure the imaging gets better and better. Due to the rotatable camera, pictures are clicked in a better axis and if taken with a particular aim, are more exact in nature. The videos captured are of high quality with high definition imaging. The integrated GPS of DJI Phantom 2 vision + offers precision holding and features like altitude lock. The hovering of the quadcopter is quite stable and even the on move flight is smooth, which again helps to get clear images.
The world of RC drones has evolved and has made a place beyond the toy kit of kids. Its of equal pleasure to an adult and even assists in carrying out aerial photography tasks in various arenas. DJI Phantom 2 vision + is the best quadcopter in the world of drones, therefore one flight experience is a must. So go on and grab your piece today and experience the power of a DJI Phantom with vision +.
Photos by dji.com
Originally posted 2014-12-19 02:58:31.