A fancy kitchen with a powerful garbage disposal is the norm these days. But what do you do if you have a septic tank instead of the usual city-drainage system? If you've asked your local plumber, they probably said that getting a garbage disposal if you have a septic is a big no. But that's simply false!
Yes, you can have a garbage disposal for septic tanks. But if you choose a proper garbage disposal that breaks the waste down finely or adds breakdown enzymes, you won't have a clogged, filled or faulty septic tank. Indeed, septic tanks aren't meant to handle large food wastes, and they can't effectively break them down.
If you're looking for the best septic-safe garbage disposal that's reliable, quiet, and lasts long, consider getting the InSinkErator Evolution Septic Assist 3/4 HP Household Garbage Disposal.
But if you're looking for quieter or more affordable options, I've carefully curated a list of the 5 best garbage disposals for septic below.
Before including them here, I went through each of their features and multiple customers and expert reviews. And now, I am confident that these will be perfect for your home if you have a septic tank.
Things to Consider Before Buying a Garbage Disposal for Septic
Septic tanks can decompose toilet paper waste pretty quickly. But that's not true for food waste. Large chunks of food can take years to decompose, which may end up filling your septic tank prematurely. Worse, it might cause some internal fault in the septic tank. And be it emptying or repairing a septic tank, it's expensive and often a big headache for homeowners.
If you get the right garbage disposal for septic, you can avoid all these problems and save money. Here are a few things you should remember before shopping for a garbage disposal unit.
Is My Septic Tank Big Enough?
Ask your local septic-system investigator whether or not your septic tank is big enough to accommodate food waste. Often, homeowners end up using a garbage disposal with a small septic tank, which results in premature filling and a host of other problems. If your septic tank is small too, you should either avoid getting a garbage disposal or make the septic tank larger.
Does the Garbage Disposal Break Food Down Finely?
Any garbage disposal that doesn't make fine particles out of the food waste isn't suited for septic. The reason is simple: the smaller the waster, the quicker it decomposes in septic. Also, you can give a garbage disposal brownie points if it adds any enzymes to help facilitate the speedier breakdown of food waste.
Is It Suitable for Your Family Size?
Family size and capacity of the garbage disposal matter even if you're not explicitly looking for a septic-safe garbage disposal cleaner. But it becomes all the more critical if you are.
That's because, with septic tanks, you need to keep a strict eye on the amount of waste in the tank. Suppose you use a low-power, low-capacity garbage disposal cleaner. In that case, it will overwhelm your septic tank with large chunks of food waste.
Now that you've learned all this, take a look at some features you should look for in a garbage disposal:
Horsepower

: The higher the HP of a garbage disposal unit, the more powerful it is. Ideally, anything between 0.5-0.75 should be great for a regular household.

Noise Reductio

n: Garbage disposals are inherently noisy because of the motor. If you can find a quieter version, don't be afraid of investing slightly more in it.

Stainless-Steel Hardware

: Internal parts made of stainless steel tend to last longer.

Compatibility and Mounting Features

: Is the garbage disposal easy to mount? Is it compatible with your home's plumbing and electrical arrangements? Ask these questions before zeroing in on a garbage disposal unit for septic.

Warranty

: Always look for a comprehensive, extended warranty period to ward off some of the maintenance costs.
5 Best Garbage Disposals for Septic Summary
Best overall: InSinkErator Evolution
Best for small households: Moen GXP50C
Best premium option: Kraus KWD100-75MBL
Best for noise reduction: Chooba Garbage Disposal
Best heavy-duty: HISSUN Garbage Disposal
Best Overall Garbage Disposal for Septic System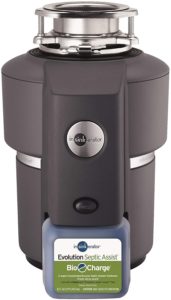 Regarding garbage disposal units, there's hardly a name more established than InSinkErator. The company claims that all its garbage disposal units are septic-friendly. So why should you go for this one? Simply because it has added features that make it even better for use with a septic system.
The most prominent advantage of using this garbage disposal for septic is that it has a Bio-Charge system. After the disposal processes of the food chunks, the Bio-Charge system infuses them with microorganisms to facilitate their active breakdown.
Due to this feature, many buyers have reported that after buying this disposal unit, they didn't have any problems emptying their septic tank. Moreover, for many buyers, their septic lasted 5-7 years without needing a pump.
With over 850 reviews and a 4.5-star rating, the InSinkErator Evolution Septic Assist is packed with added perks. Features like the SoundSeal technology and powerful stainless steel-based internal parts make it perfect for those looking for a luxe and effective garbage disposal unit for septic.
Features
It is infused with bio-charge to facilitate the active breakdown of food for septic tanks.

Quiet functioning due to the SoundSeal technology.

2-stage multi-grind feature and Dura-Drive motor for effective grinding of big food chunks.

8-year in-home limited warranty

Easy to replace the cartridge

Quick-lock mount makes it easy to install

Leak-guard liner that increases durability
Pros
The bio-charge feature makes it excellent for septic systems

SoundSeal ensures quiet operation

Stainless steel hardware means a long, rust-free life
Cons
Some users have reported slow drainage

Few users report a faulty bio-charge cartridge
Check the InSinkErator Evolution's latest prices on Amazon
Best Garbage Disposal for Small Households with Septic system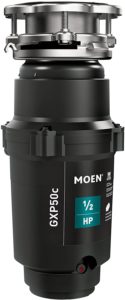 If you have a small family and do basic meal prep (cutting, peeling, dicing, etc.) while preparing meals daily, this compact septic-safe garbage disposal from Moen is a great option. While it doesn't have any features specific to a septic tank, it does a fantastic job of effectively breaking down food particles for septic.
One of its most significant selling points is that it is potent for its size and price. You get a 2600 rpm motor with 0.5 HP, which is more than enough unless you have considerable food waste with every meal.
Granted, it isn't particularly quiet even though Moen claims to have infused it with SoundShield technology; it's a steal considering the straightforward installation and hassle-free repairs.
Like the InSinkErator Evolution Septic Assist, this one also has a stainless steel-based internal architecture. The impeller is sharp and will last you years without needing replacement. Also, it comes with a plug-in power cord. So if you don't want to spend extra on getting a garbage disposal unit hardwired, this one should be your go-to choice.
Features
Compact and lightweight

Easy to install

It comes with an external power cord that eliminates the need for hardwiring

A continuous feed system helps with basic meal prep

2600 RPM Vortex Motor prevents jamming

5-year in-home service limited warranty
Pros
Perfect for homes with less waste (small families/bachelors)

Powerful grinding action for the price

Easy to swap with your old garbage disposal
Cons
Loud despite claiming to be quiet

It takes a long-time to get drained fully
Check the Moen GXP50C's latest prices on Amazon
Best Premium Garbage Disposal Unit for Septic System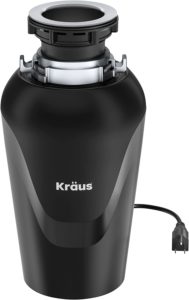 If you're looking for a powerful, premium-quality, and quiet septic-safe garbage disposal unit, Kraus KWD100-75MBL is the one you can go for with no apprehensions. The steep price is justified due to the excellent quality it offers.
With a ¾ horsepower 3800 RPM motor, even big chunks and vast quantities of food waste will take just a few minutes to pass through. Moreover, the powerful blades mean the food will be broken down finely enough for your septic tank. I was also impressed with how easy it is to install this garbage disposal unit. It takes just 2 steps to mount. And it's universally compatible. So if you're replacing your old garbage disposal with this one, you won't have to make any special adjustments.
I still think the best part of this garbage disposal is the heavy-duty Magna Grind motor. Unlike traditional induction motors that take a while to give power to the blades to enable them to spin faster, this one does it almost instantly. An automatic shut-off system will also prevent this motor from getting damaged if your garbage disposal clogs. Add all this to the quiet operation and the optional dishwasher connector, and you have a truly premium product in this Kraus disposer.
Features
Streamlined canister

Stainless-steel architecture and flange

Quick operation due to the MagnaGrind motor that provides instant power

3800 RPM motor adds to the power

The drain stopper helps fill the sink

QuietStorm soundproofing technology means quieter operation.
Pros
MagnaGrind motor ensures instant power start-up

Quiet operation, yet powerful and compact

Universally compatible and easy to install
Cons
The sink scratches easily

The sink is not appropriately tapered towards the drain
Check the Kraus KWD100-75MBL's latest prices on Amazon
Best Quiet Garbage Disposal For Septic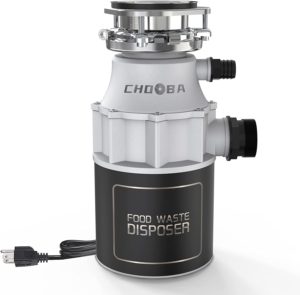 When garbage disposal units have a powerful engine, that usually means they would be noisy. But not this one. This Chooba Garbage disposal is an underrated, power-packed machine that is quieter than most other garbage disposals. It has a multi-stage grinding process but still claims to be 20% quieter than other similar models.
The ¾ HP motor ensures optimal grinding of the giant food chunks, meat, and bones into the smallest (1-3mm sized), debris-free particles that can easily decompose in your septic tank. Moreover, the DC vortex motor removes any additional debris to prevent clogging down the drain. This motor is also perfect for avoiding jamming.
Even though the brand claims it takes just 20 minutes to install this garbage disposal unit, buyers have reported that it takes much longer. If you know the basics of plumbing and your house's electrical connection, you might be able to install it yourself.
Apart from this, the comprehensive warranty and in-box accessories for installation make it an easy, powerful, and sleek choice for your kitchen.
Features
Anti-jam DC vortex motor

¾ HP and 3600 rpm speed

A 4-stage grinding system breaks the food into 1-3 mm-sized chunks.

Perfect noise reduction technology

It comes with a power cable and other installation accessories in the box
Pros
Excellent noise-control technology

Smooth operation

Anti-jam motor enables longer life
Cons
It takes longer than 20 minutes to install

The dishwasher connection is not well-built
Check the Chooba Garbage Disposal's latest prices on Amazon
Best Heavy-Duty Garbage Disposal for Septic System

Although the HISSUN Garbage Disposal Cleaner lies on the expensive end of this list of the best garbage disposal cleaners for septic, it is also one of the most powerful. Besides having a ¾ HP, it has an incredibly high speed of 4000 RPM. If you want a quick, one-shot garbage disposal unit, I'd recommend you go for this one.
It can grind up to 15 lbs of food waste per 10 minutes without jamming or clogging. If that doesn't save your time in the kitchen, I don't know what will. Be it meats, vegetables, or nuts. This septic-safe garbage disposal cleaner can break it down into a fine 3-mm particle powder. And once it does, it can store the waste in its massive 1.2 L tank until it's ready to drain it.
This one is also one of the quietest garbage disposals for septic on this list. It can operate at less than 60 dB, all thanks to the double-thick splash guard and hollowed side design with sealed, shockproof technology.
The lengthened handle is another perk, which helps you direct the food waste into the disposal without touching it. All-in-all, it is a beast yet sleek and quiet enough for homes.
Features
Powerful 4000 RPM motor with 5-stage grinding process

Anti-jam and anti-clog technology

Quiet and fast, operating with under 60 dB sound

It has long life, can last up to 10 years

Lengthened handle helps direct food waste effectively into the disposal

Large storage chamber of 1.2L

Easy installation
Pros
Perfect for heavy-duty use in large households

Extremely quiet yet effective

Durable; can last up to 10 years
Cons
It may take re-engineering to connect the dishwasher

Designed to be plugged in so cannot be hardwired
Check the HISSUN Garbage Disposal's latest prices on Amazon
What Waste Should Go Into a Septic Tank?
Non-solid waste, toilet paper, and any toilet waste are acceptable for a septic system. But you should never put solid, non-biodegradable waste in a septic tank. Additionally, do not put hazardous chemical waste, grease, fat, etc., in your septic tank.
Another often-overlooked aspect of a septic tank is that it cannot handle large quantities of water. Your usual everyday showering and water usage are fine. But when you drain large amounts of water in a septic tank, it can disturb the sludge preparation and cause the bacteria in the tank to act slower than usual.
Moreover, chemicals such as too much soap or chlorine can strip off the bacteria from a septic tank. This can prove detrimental to your septic tank and may need you to call a septic expert to have it reinfused with microorganisms, which can often be expensive.
Unless broken down into small particles, large quantities of food waste are also unsuitable for septic tanks. That is why, if you do decide to dump your everyday food waste into a septic tank, it's better to get garbage disposal for septic.
Should Kitchen Sink Drain to Septic Tank?
Ideally, your kitchen sink should not drain into the septic tank. It is because wastewater from the kitchen sink can make your septic tank fill up much faster. If that happens, you will need to empty your septic tank more often. Moreover, draining your kitchen sink into the septic tank can cause hygiene issues.
When kitchen sinks drain into septic tanks, they disturb the tank's microorganism balance and sludge-scum consistency. This can cause a backflow of odor throughout your house and make your kitchen sink susceptible to germs.
How to clean a garbage disposal with a septic system?
If you have a garbage disposal and a septic system, you need to be careful about what you put down the drain. Some things can clog up your pipes and damage your septic system. Here are some tips on how to clean your garbage disposal and keep your septic system running smoothly.
First, don't put anything down the drain that can't be easily ground up. This means no coffee grounds, eggshells, or chicken bones. These can all clog up your pipes and cause problems with your septic system.
Second, run cold water through the disposal for at least 30 seconds before turning it on. This will help to lubricate the blades and prevent them from getting jammed.
Third, only put a small amount of food waste down the disposal at a time. This will help to prevent clogs and allow the blades to do their job more effectively.
Fourth, clean your garbage disposal regularly with a mixture of baking soda and vinegar. This will help to keep it smelling fresh and prevent build-up on the blades.
fifth, if you have any problems with your garbage disposal or septic system, contact a professional for help. These are delicate systems that require special care. Don't try to fix them yourself unless you really know what you're doing.
Following these tips will help to keep your garbage disposal and septic system in good working order. If you have any questions or concerns, be sure to contact a professional for help.
Bottom Line
Septic tanks and garbage disposal units can co-exist if you choose wisely. With my recommendations above, finding suitable, septic-safe garbage disposal for your home should be easier.
Even if you decide to go for a garbage disposal unit that I didn't recommend, make sure you go through its features to find out whether or not it's suitable for septic.
Try to find a good balance between power and noise control in your garbage disposal. And no matter what, do not put non-biodegradable waste like plastic down the disposal. Moreover, try to use it less frequently.
Have more questions about buying garbage disposal for septic? Comment them down below!